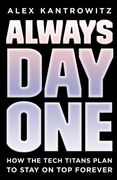 A 5 Minute Overview Of
Always Day One
How the Tech Titans Plan to Stay on Top Forever
About the Author
---
Alex Kantrowitz is a senior technology reporter at BuzzFeed News. He previously worked as a staff reporter with Advertising Age, as a freelance tech contributor with Forbes magazine, as a sales development manager with Operative, and as a marketing manager and campaign manager for New York state assembly election campaigns. He is a graduate of Cornell University and Istanbul's Bogazici University.
The Main Idea
---
Amazon founder Jeff Bezos is well-known for signing all his shareholder letters with the same phrase: "It's always Day One". At Amazon, that's code for you have to keep inventing like a startup all the time, with little or no regard for legacy. The alternative is a Day Two mentality, which in Bezos's own words is "stasis, followed by irrelevance, followed by excruciating, painful decline, followed by death".
The reality is most companies today are set up for Day Two, not Day One. The tech giants like Amazon, Google, Facebook, and Microsoft are not. They willingly take new products and spin them up into major new revenue lines in the blink of an eye — even if that renders their existing products and services obsolete. They operate like startups day-in and day-out, and their results show.
So how do you do something similar? You have to adopt an Engineer's Mindset. It has three elements:

The key to the Day One mindset is to harness the brainpower and the very best ideas of all your people, not just those at the top. If you can follow the lead of the tech titans who do exactly that, you're in the game.
The Day One Mindset
---
1. The Day One Mindset — Introduction. "Day One" at Amazon is code for keep inventing and acting like a startup. It's a healthy acknowledgment competitors can create new products at the speed of light so you'd better build for the future, even at the expense of your present products and services. If you look at all the big tech companies of today, all of them have survived by going back to Day One multiple times. It's the only way to stay on top.
2. The Day One Mindset — Three Rules. The Day One mindset is to create a culture of building, creating and inventing. It's the way an engineer typically approaches work as opposed to a professional manager. It's not so much a matter of technical aptitude, but is more a distinctive way of thinking. The Day One mindset has three main elements:

3. The Day One Mindset — Case Studies. Two great case studies for the benefits of the Day One mindset are Apple and Microsoft. Apple is a good example of a company which was built for a visionary, but today lacks democratic invention, constraint-free hierarchy and free-flowing collaboration. As a result, it's currently stuck in Day Two. Microsoft, by contrast, went through an extended period in Day Two but is now led by a CEO who applies the Day One mindset and it shows. Microsoft is undergoing a new era of internal invention.
4. The Day One Mindset — Leaders of the future. Once you learn the Day One mindset and see it in action, the first question which always comes to mind is what will this mean for the leaders of the future? As the economy enters an era that prioritizes invention and innovation, leaders are going to need to evolve from being dogmatic decision makers into highly collaborative facilitators. The era of not only capturing but executing on the best ideas from everyone in the organization is about to arrive. Leaders as facilitators — that's got to be a good thing.
Summaries.Com Editor's Comments
---
What is it that the tech titans are doing right to attract such insane market valuations? Is it just a matter of letting your people wear T-shirts to work? What is their secret sauce? Buzzfeed's senior technology reporter Alex Kantrowitz set out to find out.
Alex suggests that it really comes down to two factors. First, the tech titans are willing to pivot on a dime. They will develop a new product at pace, even if it cannibalizes their legacy products. They act like start-ups all the time. Secondly, they run their companies with an "Engineer's Mindset". That means they believe in having a meritocracy, where the best ideas get picked up on and executed, whether the ideas are put forward by the CEO or the janitor.
The "Engineer's Mindset" is something that traditional command-and-control companies struggle with. At many companies, employees are only there to execute on what the superstars and senior leaders come up with. The tech titans search continuously for the best ideas from any employee and run with those. They have constraint-free hierarchies, no gatekeepers, an abiding belief in democratic invention philosophies, and a company-wide collaborative ethos.
The proof is in the pudding — as the saying goes. At present, Microsoft has a market cap of $946 billion, Amazon $916 billion, and Alphabet $863 billion. There might be something in this idea!
The largest market cap belongs to Apple at $961 billion. Interestingly, the author, Alex Kantrowitz, uses Apple as a case study of a company that DOES NOT apply the Engineer's Mindset. Instead, Alex attributes Apples success to the residual impact of the Steve Jobs era, and predicts that Apple will struggle to keep pace with the other tech titans. We'll watch with interest.
Good book. Robust ideas. Worth thinking about.