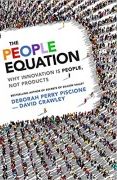 A 5 Minute Overview Of
The People Equation
Why Innovation is People, Not Products
About the Authors
---
Deborah Piscione is a serial entrepreneur and principal of Vorto Consulting, a Silicon-Valley innovation consultancy firm. She is also the author of four books including Secrets of Silicon Valley. She is the founder of Nobiyo Freshwear and Alley to the Valley, a community of female entrepreneurs. She previously spent eighteen years in Washington DC as an on-air commentator for CNN, MSNBC and Fox News. Deborah Piscione is a graduate of Georgetown University and Florida State University.
David Crawley is also a principal of Vorto Consulting. He previously worked at Cypress Semiconductor where he was head of continuous improvement and as a project manager with McKinsey and Company. He is a graduate of the University of Cambridge, the University of Oxford and the Royal Military Academy.
The Main Idea
---
The best way to get more innovation happening within organizations is to provide a culture where risk-taking is safe and innovation is completely democratized so anyone and everyone can participate.
In other words, get The People Equation right first and innovation will happen. Rather than worrying about providing innovation tools or instituting innovation-generating processes, give people the go-ahead to innovate and they will.
The People Equation is that you need to have four elements which work together: