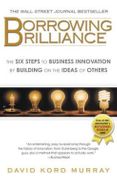 A 5 Minute Overview Of
Borrowing Brilliance
The Six Steps to Business Innovation by Building on the Ideas of Others
About the Author
---
David Kord Murray is an aerospace engineer turned entrepreneur, inventor and Fortune 500 executive. He has served as the head of innovation for Intuit and other Fortune 500 companies. Mr. Murray has also started several companies from scratch and grown them to millions in revenues. He has worked as the Senior Manager for Advanced Technologies for President Reagan's Star Wars program, as a representative for McDonnell Douglas Astronautics Company and as part of the conceptual development team for the International Space Station.
The Main Idea
---
New ideas are always constructed out of existing ideas. What appear to be genuinely original ideas always combine snippets of one idea with parts of another to come up with something which has never before been combined in that way.
To be specific, when you look at the creative process from a big picture perspective, you'll always find the genesis of any new idea comes through a six step process.——————————-
The first three steps can be termed as the origin of the creative idea:
Define the problem you're trying to solve.
Borrow ideas from places with similar problems.
Connect these borrowed ideas and combine.

——————————-
The last three steps are where you then evolve and polish your new idea to make it workable:
Allow combinations to incubate into a solution.
Clarify strengths and weaknesses of your idea.
Weed out weak points and strengthen the strong.

——————————-
By working through this six step process, you come up with something new which combines aspects or elements of old and established ideas into a different mix.

Six Steps to Business Innovation
---
1. Defining — State clearly the problem you're trying to solve. Creative ideas are always the solutions to problems. Therefore, how you define the problem at hand shapes what kind of solution emerges. Don't be too narrow or too broad.
2. Borrowing — Borrow ideas from other places with similar problems. Bring together solutions to comparable problems which are already in use — from your competitors, your industry or in the sciences, the arts or elsewhere.
3. Combining — Connect and mix-n-match borrowed ideas. The essence of creativity is to make new and fresh connections. Look for an appropriate metaphor to structure and define your new idea. Establish a new metaphor if necessary.
4. Incubating — Allow these ideas to incubate into a complete solution. Let your subconscious mind stew over your new idea. Deliberately think about other subjects so your subconscious can add its tweaks and improvements to your idea.
5. Judging — Identify strengths and weaknesses of the solution. Analyze your solution and identify its strengths and weaknesses. Evolve your new idea further by injecting your own viewpoints, personal judgment and intuition into it.
6. Enhancing — Eliminate weak points and build strong points. Keep on improving your idea through trial-and-error. Make adjustments and fine tune what you're working on. Keep on reorganizing your idea again and again until it becomes genuinely world class.