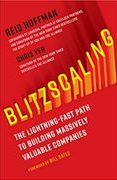 A 5 Minute Overview Of
Blitzscaling
The Lightning-Fast Path to Building Massively Valuable Companies
About the Authors
---
Reid Hoffman cofounded LinkedIn in 2003 and is now a partner at venture capital firm Greylock Partners. He is also the coauthor of The Startup of You and The Alliance. He serves on the boards of Airbnb, Convoy, Edmondo and Microsoft. He was an early-stage investor in Facebook, Flickr and Zynga and was a founding board member and executive vice president at PayPal. Reid Hoffman is a graduate of Oxford University and Stanford University.
Chris Yeh is a writer and entrepreneur. He prides himself on helping interesting people do interesting things. He also coauthored The Alliance along with Reid Hoffman and Ben Casnocha. Chris Yeh is a graduate of Stanford University and Harvard Business School.
The Main Idea
---
How did companies like Airbnb, Alibaba, WeChat, Groupon, Stripe and Dropbox become multi-billion-dollar enterprises so fast?
The key was they adopted an aggressive, all-out growth program called "blitzscaling". In practical terms, blitzscaling means you prioritize speed over efficiency, even though there are lots of uncertainties. You invest in growing faster than your competitors to become a "scale-up" – where you work out the design details, build factories, hire people and start selling to very large marketplaces.

Traditionally, businesses used to try and seize the first-mover advantage. The key to success in the network era is to harness the first-scaler advantage instead. Grow faster than your competitors for longer and they end up becoming irrelevant.
The great thing about blitzscaling is this strategy doesn't just work for high tech companies. It has already been used in markets the length and breadth of the economy. It can be even more effective in developing nations. Blitzscaling will generate millions of new jobs worldwide as it becomes more widely known and applied.