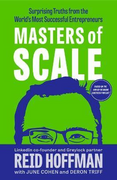 A 5 Minute Overview Of
Masters of Scale
Surprising Truths from the World's Most Successful Entrepreneurs
About the Authors
---
Reid Hoffman is an entrepreneur, advisor, partner, and investor. Reid served as executive vice president and founding board member at PayPal, and co-founded LinkedIn in 2003. He joined Greylock Ventures in 2009, and currently serves on the boards of several companies including Microsoft, Convoy, and Xapo. Reid Hoffman has been instrumental in the success of Facebook and Airbnb, and he is the author of four books including the bestsellers The Start-up of You and The Alliance.
June Cohen is co-founder and CEO of WaitWhat, a media company specializing in podcasts, live events, and professional courses. She previously headed up media for TED, and was responsible for the launch of TED Talks on the Internet in 2006.
Deron Triff is also a co-founder of WaitWhat. He previously worked on the executive team at TED where he built partnerships which grew TED's audience to more than 100 million per month.
The Main Idea
---
When you look at the most extraordinary success stories of our time, they all have one thing in common. They reach scale fast — the kind of growth that becomes self-perpetuating.
The funny thing is achieving scale is often counterintuitive — you sometimes have to do things that don't and won't scale to prime the pump, resistance at the start of your journey turns out to be a very good thing, and the most successful scalable ideas have a way of seeming highly implausible when you first start out.
The best way to learn how to scale is to study the success stories of those who have, and identify and extract the strategies and ideas they used to get there. With that in mind, there are ten insider tips everyone who aspires to scale should know and apply.
The 10 Insider Tips of Scaling
---
Tip #1 — GET TO "NO" as fast as you can. Talk with smart people who don't like your idea. That will make you refine your idea for the better, and move you closer to scale. Welcome "No".
Tip #2 — Be prepared to DO things that DON'T SCALE. To prime the pump when you first start out, be prepared to do things that obviously won't scale in the future. To scale, you have to do the opposite.
Tip #3 — Look for GREAT IDEAS disguised as baddies. To make a great idea succeed, you don't need an MBA or even access to capital. All you really need is curiosity, a bias for action, collaboration and grit. Be right.
Tip #4 — DESIGN YOUR CULTURE to handle scale. Building your culture is a never-ending challenge. You have to build a culture which is smart enough to evolve so it will scale. Founders shape culture.
Tip #5 — GROW FAST but don't burn yourself out. Strike a good balance between explosive rapid growth and strategic patience. Sprints are great, but you can't do that forever. Hit a good fast/slow balance.
Tip #6 — BE A LEARN-IT-ALL, not a know-it-all. When you're doing something new, you're going to reach the limits of your knowledge fast. That's okay, as long as you're prepared to zip up the learning curve.
Tip #7 — NOTE WHAT PEOPLE DO, not what they say. Watching what customers are trying to do with your product can show you the way forward. Just make sure you learn from what they do, not what they say.
Tip #8 — PIVOT AS NEEDED, embrace Plan B with gusto. The truth is most entrepreneurs pivot multiple times before they scale. Be prepared to do the same with gusto, but stay linked to your mission.
Tip #9 — LEAD PEOPLE by inspiring, not compelling. Leadership as you scale is always about adaptability first and foremost. You have to inspire people to come on the journey, not compel them to follow rules.
Tip #10 — View your company as a TROJAN HORSE. Social transformation shouldn't just be a side effect of your business. Aim to do good things which will make the world better. That's the real beating heart of business.
Key Takeaways
---
The best way to learn how to scale is to study the success stories and follow the same roadmap. There are patterns that work.
The road to scaling is counterintuitive -- you have to prime the pump at first by doing things that can never scale.
Summaries.Com Editor's Comments
---
Masters of Scale is the second book written by Reid Hoffman that we've summarized, the other being the classic Blitzscaling written in 2018. Hoffman makes the point that scaling is part-science and part-mindset; you need faith that you can change the world, but also a willingness to fail and learn over and over as you work towards scaling. Masters of Scale looks at the people who have successfully scaled their businesses and extracted road-tested principles of success. Most of these ten insider tips are rather counterintuitive, which is what makes them interesting and memorable.
It's definitely hard to argue against these tips due to the fact Reid Hoffman knows firsthand what it takes to scale a company. He helped launch small businesses you may not have heard of called PayPal and LinkedIn. He's been an early-stage investor in Airbnb, Facebook, Zynga, Aurora, Dropbox, and many others. He also hosts a business podcast by the same title with millions of fans in more than two hundred counties, and one of the highest listen-through rates of any podcast audience anywhere in the world.
It's always good to learn from someone who walks the talk, and speaks from close-up firsthand experience. If you aspire to bring something new to the world and become a force for good, buckle up. This summary tells it like it is, not how people wish it was. Highly recommended.