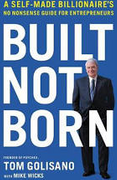 A 5 Minute Overview Of
Built, Not Born
A Self-Made Billionaire's No-Nonsense Guide for Entrepreneurs
About the Author
---
Tom Golisano is an entrepreneur, philanthropist, and civic leader. He is the founder and chairman of the board of Paychex, Inc., which now has 12,000 employees, 100 office locations in the United States, and a market valuation of $28 billion. Tom Golisano founded Paychex in 1971 with just $3,000 and a credit card, and served as the company's CEO from 1971 to 2004. He was named by FORBES magazine as one of the top 10 bosses in the U.S. for three consecutive years, starting in 2002. His charitable foundation, established in 1985, has now distributed more than $300 million to hospitals, educational institutions, and other organizations. Mr. Golisano is a graduate of Alfred State University, holds five honorary doctorates from colleges and universities, and is married to Tennis Hall of Famer Monica Seles.
The Main Idea
---
Do you have what it takes to be a successful entrepreneur?
Starting a business can kind of feel like it's a high-wire act with no safety net, especially the first time around. However, the reality is starting your own business today is in fact less risky than the more traditional career paths. You get to call the shots, which means you can respond to changes in the marketplace fast if you're smart.
To succeed as an entrepreneur, there are seven principles you need to apply: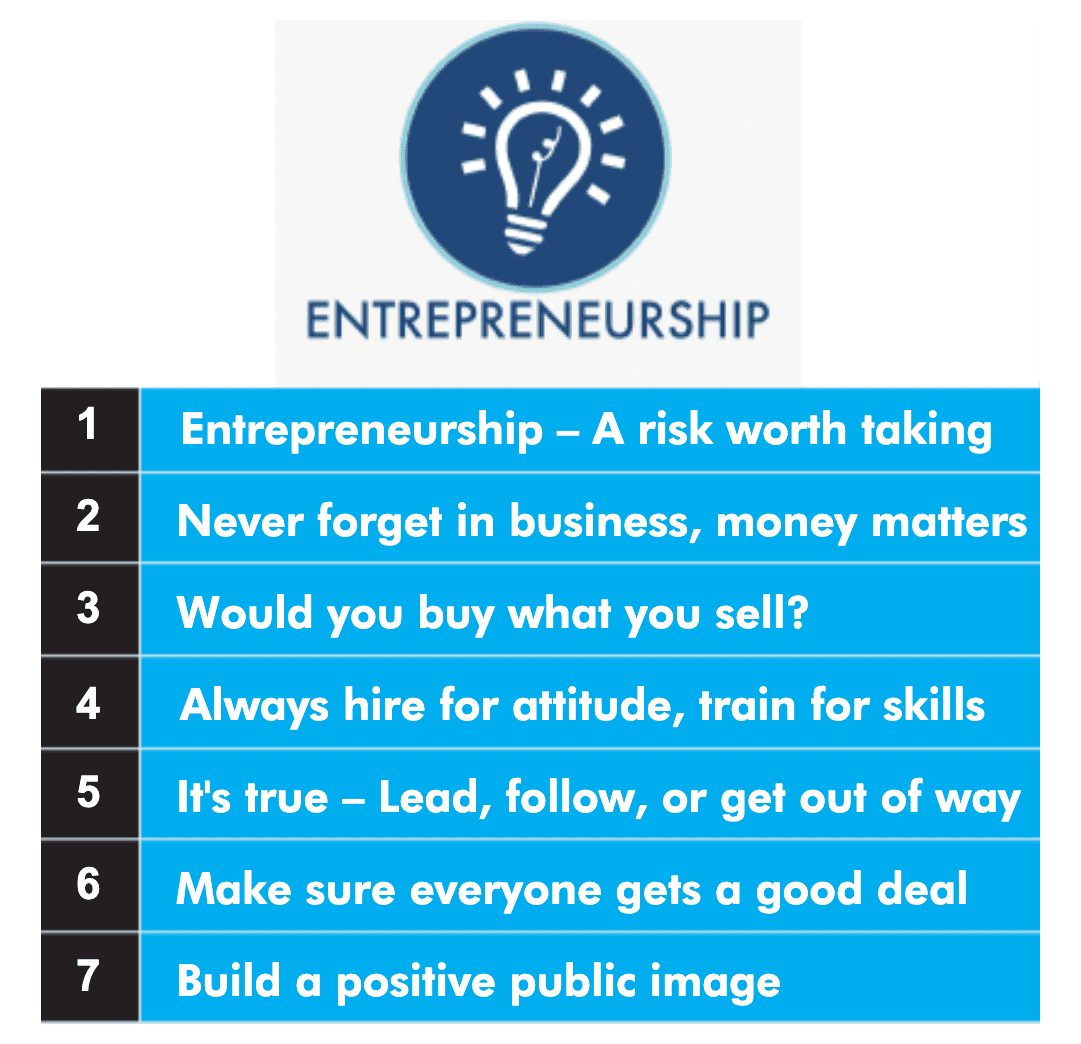 Seven Principles for Entrepreneurial Success
---
1. Principle #1 — Entrepreneurship — A risk worth taking. If you run your own business, there are risks, but at least you can manage them. Isn't that better than turning up at work one day to find out you've been laid off?
2. Principle #2 — Never forget in business, money matters. Too many businesses fail because they are undercapitalized at the start. Make sure you start with enough funding to take your business to the next level.
3. Principle #3 — Would you buy what you sell? Passion tends to drive most start-ups. Build a business which sells a product or service you'd be prepared to buy. Don't be in business just to make money.
4. Principle #4 — Always hire for attitude, train for skills. Hiring and firing well will be central to the success of your business. Always hire for attitude, train for skill, and be quick to fire when necessary.
5. Principle #5 — It's true — Lead, follow, or get out of the way. The person at the helm always sets the direction for the organization as a whole. Make sure you're a good business leader, manager, or owner.
6. Principle #6 — Make sure everyone gets a good deal. You'll always achieve a lot more if everyone you deal with feels like they are getting a great deal. Make that your personal ethos. Look for the win-win sweet spot.
7. Principle #7 — Build a positive public image. Always be building your image right from day one. The more people know about you, the better. Deliberately kick your profile up a notch or two. It's worth it.
Key Takeaways
---
Starting your own business today is less risky than traditional career paths. You are in the driver's seat rather than being reliant on the whims of a boss.
Building your own business builds an asset that you can sell, pass on to an heir, or whatever. You can't sell a job.
Summaries.Com Editor's Comments
---
I must admit I wasn't familiar with what Tom Golisano had accomplished until I read this book, but now I am up to speed I find his story very appealing. He started Paychex with $3,000 and his credit card, and has grown the company to a $28 billion market valuation. I have a lot of respect for what he's done, which is amplified by the fact his foundation has given more than $300 million to hospitals and schools.
Built, Not Born is an unapologetic tribute to entrepreneurs and their capacity to solve problems. Tom Golisano points out that newly minted entrepreneurs will make mistakes, but that's OK because that's the best way to learn what works in the real world, as opposed to what the academics say. He suggests the best way to learn is to take the plunge and start something, and learn as you go along. I like that philosophy a lot. It makes sense to me.
All in all, a great book for anyone thinking about becoming an entrepreneur. Give it a go. Build a masterpiece you're proud of. As Tom Golisano says: "Cradle-to-grave jobs have gone the way of pay phones and Blockbuster Video stores. There's a lot of insecurity working for other people. You can't sell a job or pass it along to your heirs. Build a successful business, however, and it can provide income and security in retirement; not only that, it can outlive you."