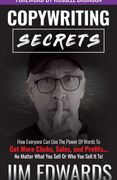 A 5 Minute Overview Of
Copywriting Secrets
How Everyone Can Use the Power of Words to Get More Clicks, Sales, and Profits … No Matter What You Sell or Who You Sell It To!
About the Author
---
Jim Edwards is the founder and owner of Guaranteed Response Marketing, a direct response marketing firm which specializes in copywriting. He has also partnered with Russell Brunson, the co-founder of ClickFunnels, to create FunnelScripts, an online software service which generates sales copy and other sales messages. Jim Edwards was one of the first people to start selling e-books online in 1997. He has been featured in the New York Times, Entrepreneur Magazine and other publications. Jim Edwards also wrote The Net Reporter, a syndicated newspaper column that ran for ten years. Jim Edwards graduated with a degree in history from The College of William and Mary in Williamsburg, Virginia and managed to quit or get fired from seven different jobs within eighteen months of his graduation.
The Main Idea
---
Copywriting is salesmanship in print and persuasion in action. It's anything of value you put together which invites and motivates the reader, the viewer, or the listener to take the next step.
The real art of copywriting is to make the copy you write "disappear" — to have content which is so interesting that people don't even realize it is sales copy as they read your articles, watch your videos, or attend your presentations.
To achieve this, five types of secrets are involved: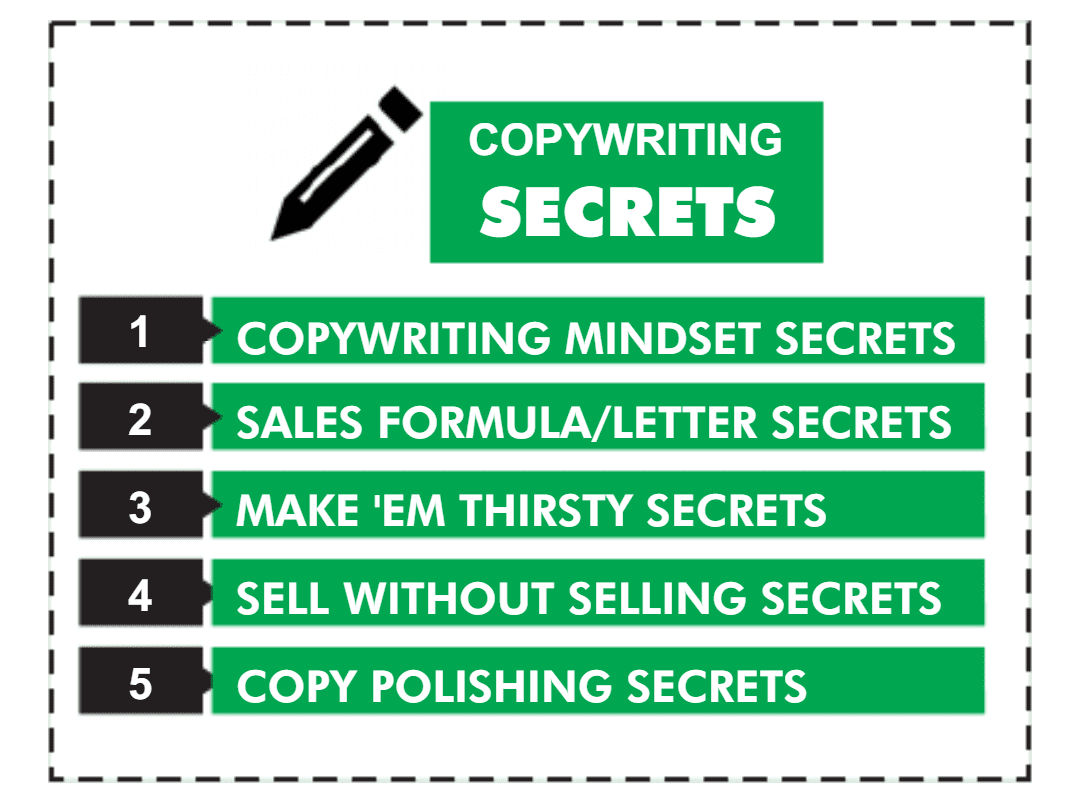 The 5 Types of Copywriting Secrets
---
1. COPYWRITING MINDSET SECRETS. Copywriting is the most valuable skill you will ever learn. You can outsource it to others but the reality is you won't know what works until you try version 1 and then start tweaking it. If you're always waiting for others, it will slow everything down dramatically. Pay attention to what works and develop the copywriter's mindset in everything you do.
2. SALES FORMULA/LETTER SECRETS. The great thing about copywriting is you don't have to start from scratch. Great copy always leaves clues. Therefore, a good starting point for any copy you write is to look at the three sales formulas which never fail and the template for amazing sales letters. Use those as great launching pads rather than staring at a blank sheet of paper.
3. MAKE 'EM THIRSTY SECRETS. To get people to buy whatever you're selling, you're going to have to make them thirsty — so they will buy faster. The best way to do that is to tell them any of four basic stories. Great stories will make people thirsty, and then great copy will tell people where to go to buy a drink. This is the pattern for success in copywriting.
4. SELL WITHOUT SELLING SECRETS. The secret to sell without selling is to embed "stealth closes" right into your sales copy. Follow the lead of Columbo. Advertising makes people raise their anti-sale defenses but if you sidle up to them and give them some value and then casually add a "By the way ..." you can close them without any pressure closes. Brilliant.
5. COPY POLISHING SECRETS. The great thing about copywriting is there's always something new to learn. Often, the most intensive learning won't happen until you get your first draft out in the world and you start tweaking based on the feedback you get. It's a process that never ends. Be a student of the art and science of copywriting and you'll never run out of things to learn.
Summaries.Com Editor's Comments
---
I really enjoyed copywriting guru Jim Edward's book, Copywriting Secrets, which we summarized this week. He makes the point that everyone should learn how to write persuasively, and that success always leaves clues and patterns to follow.
At first glance, it's tempting to think that you can easily outsource your copywriting needs, but Jim Edwards makes the point that if you're truly in need of world-class copywriting, you should learn to do it yourself. Why? It's slow and expensive to hire someone else and then go through all the iterations it takes to come up with something good. But more importantly, nobody knows your product or service better than you do. Any copywriter you hire will never be able to do as good a job as you can do simply because they don't know everything you know.
Copywriting is salesmanship in print. Learn how to put compelling copy together and you'll do better with all your content creation. Great skills to have today when everyone is an author and everyone can have their own TV show. Hope you get the great value from this summary that I did.
If you like this summary, you'll love the full book. Get your FREE copy NOW!