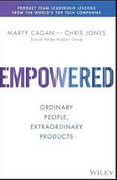 A 5 Minute Overview Of
Empowered
Ordinary People, Extraordinary Results
About the Authors
---
Marty Cagan is the founder of the Silicon Valley Product Group, a product development consulting company. He previously held senior-level leadership positions with eBay, Netscape, and Continuus Software Corp., as well as being a software engineer with Hewlett-Packard. He has more than 25 years experience building and leading product teams, and today acts as an executive coach and advisor to leading Internet companies. He holds multiple patents, and is a graduate of Stanford University and the University of California, Santa Cruz.
Chris Jones is a partner at Silicon Valley Product Group. He has more than 25 years experience building and leading product teams. He has worked with everyone from startups to Fortune 500 companies, including Lookout, Symantec, and Vontu. He also holds multiple patents in consumer and enterprise mobile, web, data, and platform services. Chris Jones is a graduate of Stanford University.
The Main Idea
---
How do the top tech companies — like Apple, Google, Netflix, Tesla, Amazon, etc. — keep on coming up with consistent innovations? Most people assume it's because they recruit top talent, but the real advantage these companies have is not so much who they hire, but how they enable their people to work together.

What they do differently is the top companies create an "empowered environment" — where great products and ideas can emerge from a team of otherwise ordinary people working together exceptionally well.
If you want to come up with great innovations in the future, don't look for Superman. Create an empowered environment which genuinely leverages the potential of your people. Help your people work together well, and they will solve hard problems for your customers, and create extraordinary products.
The Five Elements of Empowered Teams
---
1. Element #1 — Coaching. Coaching is something that rarely occurs in many companies, but is more essential than ever. The key to having a successful product development team is to use coaching to turn ordinary people into members of extraordinary product teams.
2. Element #2 — Staffing. Coaching and developing your people is important, but so too is finding the right people to begin with. The best product companies hire people of character, and then coach and develop them to become great team members. Staffing and coaching go hand in hand.
3. Element #3 — Product Vision. Most companies have some kind of mission statement which encapsulates the purpose of the business. The product vision states how you plan to deliver on this mission by developing this specific product. A good product vision inspires, compels, and empowers.
4. Element #4 — Product Strategy. Product strategy is all about deciding which customer problems you are going to solve. This is often hard to develop, because people will be hoping to solve all the customers problems, but that's unrealistic. Product strategy is your overall approach and rationale.
5. Element #5 — Collaboration. Strong product leaders and empowered product teams are great, but they're usually not enough. To develop great products, you also need company-wide collaboration happening. This will only become feasible if you move from a subservient business model to a collaborative business model.
Key Takeaways
---
Ordinary people can produce extraordinary results if you empower them and coach them the right way.
A leader's job is to create an environment where people are empowered to do great work.
Summaries.Com Editor's Comments
---
Very interesting book. Product development guru Marty Cagan teams up with innovation specialist Chris Jones to point out what passes for "product development" in most companies is really just "feature adding" by another name. True product development is where you solve problems the end customer truly cares about and needs solved. When you give a team permission to solve the problem in the best way they see fit, that creates an empowered development team.
The authors also note that these empowered teams are made up of ordinary people who are coached to become extraordinarily productive, rather than superstars at the top of their game. It's the team structure that generates the magic, not the raw talent or the charisma of stars. When you take off the binders and help people work together well, the synergy that gets generated can be quite impressive. Give people problems to solve rather than features to add, empower them to do what makes the most sense to them, and add in accountability, and the end results can be pretty impressive.
Great ideas for managers, business startups, and entrepreneurs right across the spectrum.