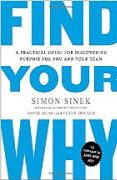 A 5 Minute Overview Of
Find Your Why
A Practical Guide for Discovering Purpose For You and Your Team
About the Authors
---
Simon Sinek is the founder of his own consulting and leadership training company, Simon Sinek, Inc. He is a self avowed unshakable optimist and leader of a movement which inspires people to go home every day feeling good about their work. He is the author of four books including Start With Why, Leaders Eat Last and Together is Better. He gave one of the most watched TED Talks of all time in 2009 where he popularized the concept of WHY.
David Mead is a corporate trainer and keynote speaker. He joined the Start With Why team in 2009 and since then has facilitated workshops and given presentations about leadership and culture.
Peter Docker is a leadership consultant and executive coach. He previously worked as an officer in the Royal Air Force and as a professional pilot. Since 2011, he has run workshops and worked with managers from some of the world's largest companies in various industries including oil and gas, construction, mining, pharmaceuticals, healthcare, banking and aviation.
The Main Idea
---

The key to motivating yourself or others to do anything is to understand your WHY – the genuine deep-seated purpose behind what you do. When you know your WHY, it then becomes much easier to understand HOW you need to act and WHAT you need to do day-by-day to bring that WHY to life.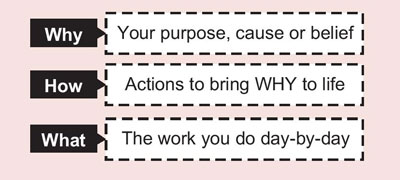 Everyone has a WHY but not everyone has got around to thinking about it and articulating it yet. If you understand WHY you do what you do, then every day you'll feel inspired to go to work and come home feeling fulfilled. Happiness comes from WHAT you do but fulfillment comes from WHY you do it.
Find your WHY first and HOW and WHAT will then become obvious.