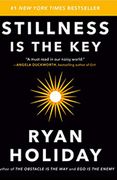 A 5 Minute Overview Of
Stillness is the Key
The Call to Stillness
About the Author
---
Ryan Holiday is a creative consultant and a best-selling author. Several of his previous books, including The Obstacle is the Way, Ego is the Enemy, and The Daily Stoic, have all been bestsellers which have been read by more than two million people worldwide.Ryan Holiday is the founder of Brass Check Marketing, a creative consulting firm, which has worked with authors like Robert Greene, Tucker Max, and Tim Ferris. Ryan Holiday previously worked as Director of Marketing for American Apparel , as PR Director for Rudius Media, and as Features Editor for UC Riverside Highlander. He is a graduate of the University of California, Riverside.
The Main Idea
---
Your best and most creative business ideas will never come in the hustle and bustle of the modern workplace. Nor will they come by listening to the million different opinions and voices which populate social media. To really come up with innovative and creative ideas, you need to answer the call to stillness.

So how do you create the kind of stillness which will help you come up with your best ideas and insights? To uncover and draw on the power of this creative force, there are three domains that you have to align:
In each of these domains, you have to reduce the disturbances and any obstacles which make stillness impossible. Once you cease to be at war with the external world and your own internal world, you can then tap into the awe-inspiring power of stillness. This is what all the world's greatest leaders, thinkers, athletes, and visionaries have always done.
Why Slowing Down is the Secret Weapon for Those Charging Ahead.
---
1. The Mind. To achieve stillness, you have to stop worrying about all the various personal and professional crises you're facing. We all have them all the time. Instead, you have to apply some clear thinking, and look for a way to tap into calmness and stillness. Only then can you think clearly, apply wisdom, and exercise the patience that's required to get clarity about what really matters.
2. The Spirit. The second step in tapping into the power of stillness is to engage your heart and soul. Serenity only comes when you train and control the forces which reside deep inside you. There's no point trying to be rational at work if your personal life is a train wreck. You have to make sure there is consistency and alignment between stillness and how you live your life.
3. The Body. The third and final domain in the journey towards stillness is how you treat your physical body. What you put in, the routine and schedule you keep, and how you go about finding leisure will all impact directly on your ability to find stillness. Make sure you cultivate the right traits and make the effort to take care of your physical state. If you don't do that, nothing else will matter.
Summaries.Com Editor's Comments
---
OK, I've got to admit right up-front I dislike any business book which deals with "touchy-feely" stuff. I want facts, strategies, numbers, plans, data — you know, the good stuff. So with some considerable reluctance I started reading Ryan Holiday's latest book, Stillness is the Key.
What I found was a book that is in fact timely and relevant. When you look at leaders and highly successful people, one notable trait they all have in common is the ability to be steady and keep their head in the heat of battle or competition, while the rest of the world is spinning around them. This is the trait Ryan Holiday identifies as "stillness", and it most certainly is in short supply in the dynamic business world of today. The reality is without stillness, you can't do your best work, or come up with your best ideas.
From personal experience, I have found that to be true. Great ideas come when I pause and listen to the voice in my head that is easily drowned out by background noise. Despite my initial reluctance, I enjoyed reading this book, and picking up on its great observations and insights. It contains some great ideas and philosophies, both modern and ancient. I particularly liked the stories given about JFK, Winston Churchill, Tiger Woods, Abraham Lincoln and others. Maybe Ryan's right. Stillness is the key.