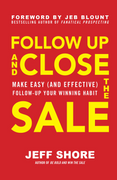 A 5 Minute Overview Of
Follow Up and Close the Sale
Make Easy (And Effective) Follow-Up Your Winning Habit
About the Author
---
Jeff Shore is the founder and president of his own sales training consultancy firm, Shore Consulting, Inc. He has more than 30 years of real-world frontline sales experience, and has carried out extensive research into the psychology of buying and selling. He also runs highly regarded sales training programs, with his students generating more than $30 billion in sales in 2019 alone. Jeff Shore is a Certified Speaking Professional with the National Speaker's Association and a member of the Million Dollar Speaker's Group. He is the author of several books including Be Bold and Win the Sale. Jeff Shore is a graduate of Saint Mary's College of California.
The Main Idea
---
The reality is most sales presentations will end with the prospect saying some variation of, "OK, let me think about that". Studies show 44 percent of salespeople will follow-up once and then give up. Those same studies also point out that 60 percent of customers will say "No" four times before they ever say "Yes".
That means if you don't have an effective system for following up, you've basically halved the results you would otherwise get. Or put another way, get better at following up and you can double your sales. The real money is in your Follow-Up system.
The best way to do follow-up consistently well is to have a designated "Follow-Up Hour" every day where you contact at least five people and systematically move them towards buying. If you do that day-after-day and week-after-week, you'll find your sales will escalate quickly and stay there. Follow-Up is the forgotten art in sales and marketing, and the key to making consistent sales.
Easy and Effective Follow-Up
---
1. Mindset — Why Follow-Up is important. Follow-Up is what separates the winners from the losers in the sales profession. High performing salespeople don't just endure follow-up, they look forward to it as an opportunity to serve their customers in the best way possible. Get to love following up and your sales will soar.
2. Strategy — Set up a Follow-Up system. Too many salespeople think of Follow-Up as an isolated step that takes place somewhere down the road. A better way to view Follow-Up is it's an extended narrative that begins with your first point of contact, and continues through the entire purchase process. You need to make Follow-Up natural and anticipated, not an inconvenience.
3. Execution — The daily Follow-Up Hour. Proper planning — both mental and strategic — will produce peak performance. Plan to do follow-up for an hour each and every day. Your approach should be:

4. The Results — Follow-Up kills sales quotas. If you do Follow-Up consistently day after day, you'll be going the extra mile that average salespeople don't. Combine focus, persistence, and time, and you'll soon work your way into the 1 Percent Club within your organization. Follow-Up is the superpower every salesperson needs.
Key Takeaways
---
44 percent of salespeople make one follow-up attempt and give up. That's way too early when the average customer says "No" four times before they say "Yes". If you follow-up more systematically, you should double your sales.
Summaries.Com Editor's Comments
---
OK, time to 'fess up. How many times have I given a sales presentation which ends with the prospect saying, "Well, let me think about that." The answer is heaps, but my track record in following up with those people has always been pitiful at best and nonexistent most of the time. That's why I really liked Jeff Shore's book, Follow Up and Close the Sale. I think it addresses a weak spot for lots of salespeople.
In essence, Jeff Shore suggests spending an hour each day on follow-ups. He states if you do 5 or more follow-ups every day, that will lead to a major boost in your sales. The numbers will vary, but he's suggesting salespeople are leaving a lot of money on the table at the moment. Following up more systematically and consistently will empower you to capture that lost revenue. He also has some great suggestions for how to make follow-ups more effective than ringing your prospect and saying, "Well, what do you think?"
A simple concept but potentially quite lucrative. I really liked this book. I think every entrepreneur, salesperson, business owner and manager should read it.