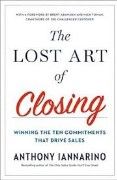 A 5 Minute Overview Of
The Lost Art of Closing
Winning the Ten Commitments That Drive Sales
About the Author
---
Anthony Iannarino is a speaker, entrepreneur and sales leader. He specializes in complex business-to-business sales. He is also the founder and managing director of two companies operating in the staffing industry. He is the author of The Only Sales Guide You Will Ever Need and also writes daily messages for his highly regarded blog titled The Sales Blog. Anthony Iannarino is also a well regarded keynote speaker and workshop facilitator where he teaches the importance of building consensus as part of the sales process. He is a graduate of Harvard Business School and Capital University.
The Main Idea
---
For decades, salespeople were trained to "Always be closing" by learning and then applying a wide variety of high pressure sales tactics and memorized power closes. However, in more recent times a more consultative style of selling has emerged with the mantra "Never be closing" – be so helpful that prospects ask to buy your product without ever being closed.
To "Never be closing" sounds great but when you're making a larger, complex sale, you need a better approach than sitting back and hoping the client will choose to move forward without any prompting. Successful salespeople today gain trust by asking the prospect to make ten small commitments first each of which advances the negotiations towards the final decision to buy.