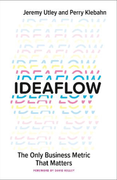 A 5 Minute Overview Of
IdeaFlow
The Only Business Metric That Matters
About the Authors
---
Jeremy Utley is the director of executive education at Stanford University's Institute of Design (d.school). He is an adjunct professor at Stanford's School of Engineering. He previously worked for the Boston Consulting Group, and is a graduate of Stanford University and Texas McCombs School of Business.
Perry Klebahn is a cofounding member of Stanford's d.school faculty. He is an adjunct professor and director of executive education st Stanford's d.school. He previously served as COO for Patagonia, and as CEO of Timbuk2. Perry Klebahn is a graduate of Stanford University and Wesleyan University.
The Main Idea
---
IDEAFLOW is a business metric. It's the number of creative ideas you or your organization generates over a specified period of time. To become more creative, you should consistently measure your IdeaFlow, and then take steps to progressively increase and grow it .
To achieve that, build generating and using IdeaFlow into your daily routine in two ways:
Innovate — build an innovation pipeline which turns ideas into viable products, using real-world data generated by tests, not theories.
Elevate — fill your innovation pipeline by cultivating breakthrough ideas, lots of them.
Innovation is never a single lightbulb moment, or a solitary achievement. Nor is it a brainstorming session, a workshop, or even a scheduled sprint. In reality, innovation needs to be a daily practice, and it should never be left just to the creatives — everyone should be routinely generating and commercializing innovative ideas. Everyone should be actively working on your IdeaFlow.


Sections in this Books
---
1. What is IdeaFlow? IdeaFlow is the creation and expansion of a pipeline of new ideas and different connections between existing ideas. In innovation, quantity leads to quality. If you want to come up with better creative breakthroughs, generate more ideas to test.
2. Component #1 — Innovate. Build a pipeline for generating, testing, and implementing breakthrough ideas. Make sure every base is covered from ideation to real world experimentation.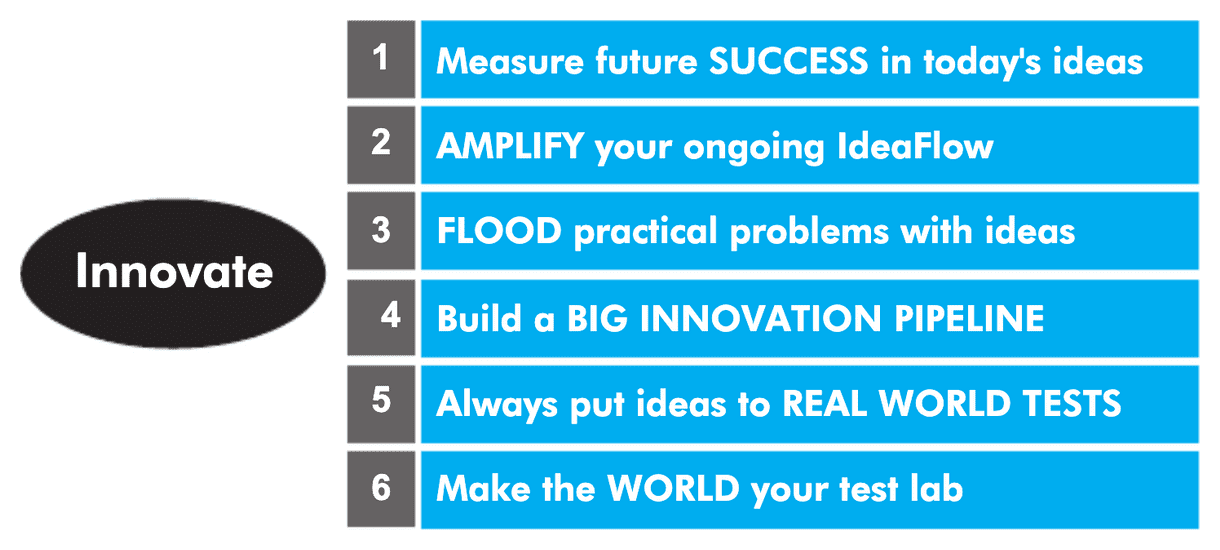 3. Component #2 — Elevate. Once you have a working innovation pipeline, you then have to fill that pipeline with breakthrough ideas. The best way to do that is to cultivate ideas by feeding your brain divergent inputs. Learn the art of idea cultivation.

Key Takeaways
---
Ideaflow (the number of innovative ideas you generate each week or month) is the only business metric that matters. It's a key performance indicator. Innovate or die.
You should consistently measure and benchmark your organizations IdeaFlow. Make generating and testing new ideas a top priority activity.
Innovation is never a solitary lightbulb moment. It needs to be a daily practice where you generate and test new ideas. Everyone should be working on your IdeaFlow.
Summaries.Com Editor's Comments
---
Now this is an exceptionally good book about innovation. At the risk of repeating myself, IDEAFLOW is quite possibly the best book about a methodology for consistently coming up with innovative ideas that I've ever read. And that's saying something, considering we have more than 29 books on innovation in our back-issue catalog. I rate this book highly.
Stanford University design school co-founders Jeremy Utley and Perry Klebahn strike me as very hands-on innovators. Their entire approach is that you can't never tell a good idea from a bad idea at the idea conception phase. It's only when you test things in the real world that the good ideas stand out and the others fail. Therefore, whenever you have a problem, you should generate lots of different approaches and test them. That's the essence of IdeaFlow — the ability to generate multiple ideas, and then test to see what actually works and what does not. It's the testing that differentiates rather than trying to pick the winners from the losers.
One idea they suggested I loved was to set up a "corkboard R&D department". You put a corkboard in a prominent spot like a corridor, and have a supply of index cards, markers, star stickers, and pushpins. Anyone with an idea can write it down on an index card, and people can vote on ideas by giving them a star sticker or a comment. Each week, you move the index card with the most stars to the right of the board where you have a column headed "Testing". You then run a quick, high-efficiency experiment of the best idea each week, and see what works. Brilliant. That makes R&D accessible and ongoing, without having to set up a dedicated unit, etc.
Highly recommended read this week. Absolutely loved this book. Really practical and down-to-earth, which I guess you'd expect from engineers. Awesome addition to the catalog, and a book that may lead to some great breakthroughs in your own business. Essential reading for entrepreneurs, business owners, and self-employed professionals.