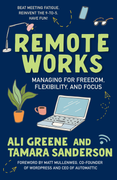 A 5 Minute Overview Of
Remote Works
Managing for Freedom, Flexibility, and Focus
About the Authors
---
Ali Greene is co-founder of an organizational design and business consulting firm, Remote Works. She previously worked as Head of Culture and Community at Oyster, as Director of People Operations at DuckDuckGo, as a training specialist at Undertone, and as an analyst at LivingSocial. Ali Greene has seven + years of remote work experience. She is a graduate of McGill University.
Tamara Sanderson is also co-founder of Remote Works. For 12 years, she was a digital nomad holding down a job while traveling to 70 countries on 7 continents. She has worked as a Design Lead for IDEO, as Director of Strategic Partnerships and Corporate Development for Automattic (the company behind WordPress), as Manager, Product Partnerships for Google, and as a Senior Private Equity Analyst for Audax Group. She is a graduate of Baylor University.
The Main Idea
---
How do you manage and run a remote team?
You can't just take what works in an office environment, and start using Zoom for team meetings. The reality is great remote teams come in all shapes and sizes, and they all work a little bit differently and uniquely. Ultimately, you have to customize the way your remote team works to their unique DNA. That's the central theme of Remote Works.

The key to making a remote team work is to understand that in remote, everyone becomes a manager of their own workflow and environment. Therefore, to run a great remote team, you have to approach it like you're coordinating the work of a group of managers much more than the traditional command-and-control approach.
Sections in this Books
---
1. UNDERSTAND THE BENEFITS — of remote. The true benefits of remote work are that you can hire the best people globally, and give those people more freedom and flexibility to produce high-quality work. It's a win-win.
2. In remote — EVERYONE IS A MANAGER. Remote team members have to manage themselves to succeed. You have to help people figure out how to do their best work remotely, and then manage flexibly to excel.
3. Your role — ENABLE EVERYONE'S SUCCESS. You don't really manage remote employees in the traditional way. Hand-holding and micromanagement don't work. Your key role as a manager is to be an enabler.
4. CREATE A TEAM CHARTER — for success. A remote team's charter document will codify team behaviors and your team's direction. It's great and vital for defining boundaries and allowing people to work autonomously.
5. USE A DIGITAL HOUSE — as your schema. A digital house is a schema for how remote teams work together and get the information required to do great work. Make sure everyone has a good mental map and tools access.
6. GET THINGS DONE — the remote way. Remote managers need to hit a good balance between creating and managing. You need to take advantage of high-energy bursts by being super-focused on getting things done.
7. MOVE — from an input to outputs mentality. Traditional managers focused on inputs. Remote managers have an output mentality. They create task lists, avoid duplication, and create a culture of accountability.
8. GET GOOD — at asynchronous communication. Conventional communication is real-time and synchronous. Remote teams use asynchronous communications, which may be addressed later. Improve your messaging.
Key Takeaways
---
1 - The key to making a remote team work is to acknowledge in remote, everyone is a manager. Approach it like you're coordinating the work of a group of managers rather than command-and-control.
2 - When you run a remote team, you have to change from an inputs mentality to an outputs mentality. It's the results that count, not hours in the office.
3 - Remote teams are the future of work. They enable every organization to dream bigger, achieve more, and access the best talent. Get good at remote.
Summaries.Com Editor's Comments
---
Running a remote team is simple, right? Instead of eyeballing everyone, you just get everyone on a Zoom call and get organized. Job done! Well, not so fast there Trigger. The benefit of remote work is you can hire the best people globally, which means for some of your team members getting up at 2am local time to join a daytime Zoom call at corporate headquarters won't appeal. Also, you want to give people flexibility to do their very best work, which is also one of the main benefits of working remotely. That seems unlikely if you insist on team-wide Zoom calls as your main organizational tool.
That's the subject remote work specialists Ali Greene and Tamara Sanderson tackle in REMOTE WORKS. They've walked the talk for years, having worked in remote teams for Duck Duck Go, Automaticc (the company behind Wordpress), IDEO, and Google among others. The authors point out to really get the most from a remote team, you have to let people manage themselves, and come up with a work schedule that fits their lives. In remote, everyone is a manager and therefore you need other tools and approaches to make a remote team a success.
I really liked their suggestions that the way forward is to create a team charter that sets out expectations, aims, and key performance indicators for the remote team, and then leave people to manage their own work schedules. To make this work you need a central place to make information available (a digital house) so communication can be a asynchronous rather than face-to-face in real time. You also have to move from an inputs mentality to an outputs mentality where it's the quality of the work done that counts, not hours in the office. Smart book with a good gameplan for remote works success.