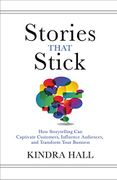 A 5 Minute Overview Of
Stories That Stick
How Storytelling Can Captivate Customers, Influence Audiences, and Transform Your Business
The Main Idea
Nothing beats a great story. If you want to get better at doing pretty much anything in business, learn how to craft and tell great stories.
Specifically, there are four stories every business needs to be able tell in order to harness the irresistible power of storytelling to best effect:
These four stories will illuminate not only what you offer, but also tell the how and why of you do what you do as well. These stories will bring your product to life and provide the right context and emotions. Whatever you're trying to achieve, one of these stories will apply. Learn how to use them well.
Why Storytelling in Business is Important
1. The irresistible power of stories. The goal of every business is to profitably deliver value to its customers. To achieve that, you have to get your product or service from point A (your business) to point B (your customer). That's it. To make your business work, you have to bridge that gap — and the best way to build a bridge always has been to tell an engaging story.
2. The four essential stories. There are four key stories that appear over and over again in business. No matter what the gap is, one of these stories will build the bridge you need. Customers want to know: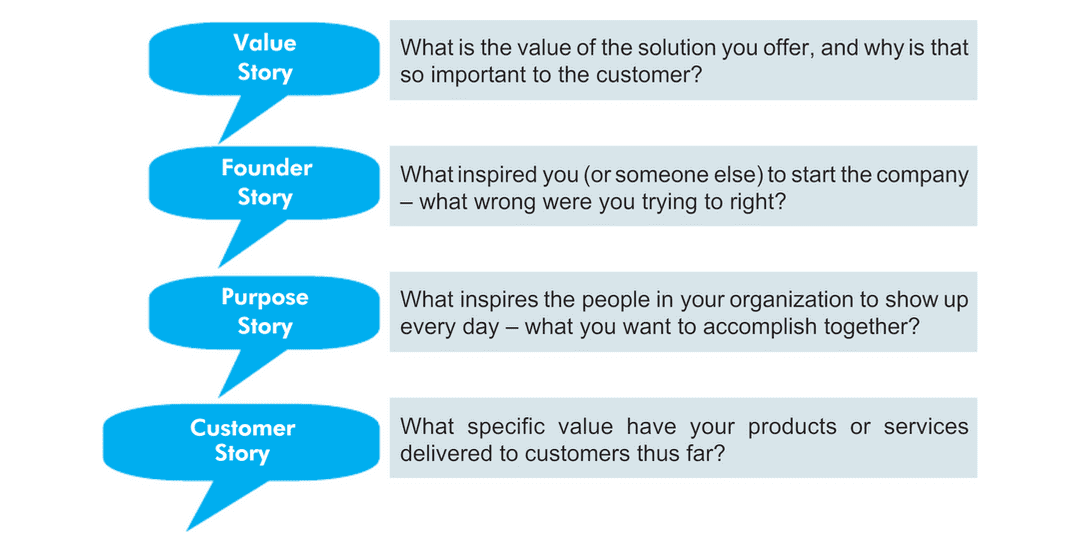 3. How to create a highly engaging story. To tell these four stories well, you have to get very good at finding, crafting, and then telling these stories in an authentic way. Use the right framework and the best tried-and-true techniques to make this job as easy as possible.

About the Author
Kindra Hall is a keynote speaker and president of a business consulting firm, Steller Collective. She is a contributing editor for Success magazine and her articles have also been published by Entrepreneur.com and Inc.com. Kindra Hall is a member of the board of directors of the National Storytelling Network and her consulting clients include Facebook, Hilton Hotels, Tyson Foods, Berkshire Hathaway, and the Harvard Medical School. She is a graduate of New Mexico State University and Concordia College.
Summaries.Com Editor's Thoughts
Well, this is a bit embarrassing really. Just a few weeks ago, I mentioned that I thought "Flip the Script" was the best business book I have ever read. I now have to admit I like "Stories That Stick" just as much. It's a superb book. I think I might have to come clean that I fall in love with pretty much each new business book I read. I guess that's an occupational hazard with being the editor of Summaries.Com.
"Stories That Stick" is excellent. Storytelling guru Kindra Hall points out that every business needs four good stories — value, founder, purpose, and customer. Even better, she gives the formula for developing each. She also talks about her three-step Find-Craft-Tell framework for delivering great business stories. This is a very well thought out book, and I recommend you get a copy and read it in full.
The thing that really impressed me is she gives examples of how companies have managed to inject emotion (which people respond to) into stories about overworked executives, a VP of sales taking his teenage daughter out to dinner, and even chewing gum of all things. If these companies can use stories to bring their products and services to life, you can too. Like Kindra Hall states: "A perfectly placed, impeccably delivered story can transport a person to a place beyond interested, straight past paying attention, and into a state of complete captivation. When it comes to a great story, we really can't help ourselves." Amen
Would You Like to Read an In-depth 30 Minute Summary?
In addition to the free 5-minutes summaries like this one, Summaries.Com has published over 1,000 comprehensive 30-minute summaries of business books like this one, to help you advance your career and business.
If you would like to read an in-depth 30-minute summary of this book, checkout Summaries.com premium plans.
To get more free 5-minute summaries like this one, sign up for the Summaries.com free plan. In addition to our existing catalog of 1,000+ summaries, we'll send you a summary of a top new business book every week.
Business Storytelling 101 Collection
If you enjoyed this summary, here is a collection of related business book summaries, to help you get ideas and strategies that will give you an edge over your competition.
This course will help you shape and mold great stories for your business.
Buy Collection of 30-minute Summaries