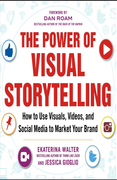 A 5 Minute Overview Of
The Power of Visual Storytelling
How to Use Visuals, Videos and Social Media to Market Your Brand
About the Authors
---
Ekaterina Walter is cofounder and CMO of BRANDERATI. She specializes in social media and is a sought after keynote speaker on the topic. She is a regular contributor to Forbes, Fast Company, Huffington Post and Entrepreneur magazines. She had led strategic marketing initiatives for Intel, Accenture, Wells Fargo and others. She is a member of the board of directors of the Word of Mouth Marketing Association and the author of Think Like Zuck. She is a graduate of Thunderbird School of Global Management, University of Alaska Anchorage and State Technological University.
Jessica Gioglio is a social media strategist. She had led the communications teams for iconic brands like Dunkin' Donuts, TripAdvisor, State Street and Comcast. She is also a popular public speaker and contributes to the Convince&Convert blog and to The SavvyBostonian blog. She is a graduate of Bentley University and the European Business School.
The Main Idea
---
The best way to cut through the clutter and to really stand out is to tell your story online using compelling graphics and visuals.

All of the social media marketing tools which have come to prominence today work exceptionally well when you integrate photos, visuals, infographics, videos and other compelling images. People will be attracted by your visuals and will then be more receptive to read what you have to say.
Visual storytelling can:
Increase awareness of your brand.
Strengthen customer relationships.
Enhance customer loyalty and retention.
Convey what you stand for as a brand.
Tell your story quickly and concisely.
If you really want to get your message across, do like they do in school — show and tell. The world is shifting more and more towards visual storytelling. Don't miss out.
Sections in this Books
---
1. The rise of visual storytelling. The old adage has always been "a picture is worth a thousand words." That's no longer true. Today, it's more like appealing images and graphics will attract millions of viewers thanks to the rise of social media platforms. Visual storytelling is rapidly becoming the best way to market anything and everything.
2. How to do visual marketing. To do visual storytelling well, you don't just toss together a random collection of images and assume the job is done. Your objective is to delight, entertain and inform using images which make sense and which tie in with what you're trying to achieve. There are seven elements which come to the fore in visual marketing.
3. The power of the platform. One of the key benefits of visual marketing is when you connect with customers, they can amplify your messages through their own shares, likes or comments. To make that happen, you have to tailor your content to take advantage of what each platform offers. Create strong content, start a conversation and flourish.
4. Visual marketing road map. Visual storytelling is a way of thinking. To be successful, you've got to approach it in a systematic way rather than just posting pictures on a wing and a prayer. Follow the roadmap and you increase your chances of succeeding at visual storytelling. These eight steps will set you up for success in the long run.

5. Real-time marketing using visuals. Real-time marketing (sometimes termed agile marketing or on-the-fly marketing) means you listen to what's important to your audience or identify something topical and use that to spark some meaningful conversations. Visuals are very effective as an element of real-time marketing.