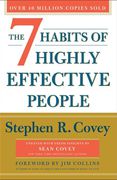 A 5 Minute Overview Of
The 7 Habits of Highly Effective People
30th Anniversary Edition
About the Authors
---
Stephen Covey (1932-2012) was an internationally acclaimed business leader and leadership authority. He was the co-founder of Franklin Covey, and a highly respected keynote speaker. The 7 Habits of Highly Effective People has now sold more than 40 million copies in over 40 languages, and has been named as the #1 most influential business book of the 20th century. Stephen Covey was a graduate of the University of Utah, Harvard Business School, and Brigham Young University. He was professor of business at Utah State University at the time of his death aged 79 years.
Sean Covey is Stephen Covey's son. He is president of FranklinCovey Education, and has built a successful career as a business executive, author, speaker, and innovator. Sean Covey is a graduate of Brigham Young University and Harvard Business School and has written several books including bestseller The 4 Disciplines of Execution.
The Main Idea
---
The 7 Habits of Highly Effective People was first published in 1989. 40 million copies later, its message is needed now more than ever. The 7 Habits remind us that no matter what the conditions of the world are, we still have the power to choose. We have everything that we need within us to build quality relationships, and find new and better ways to work together.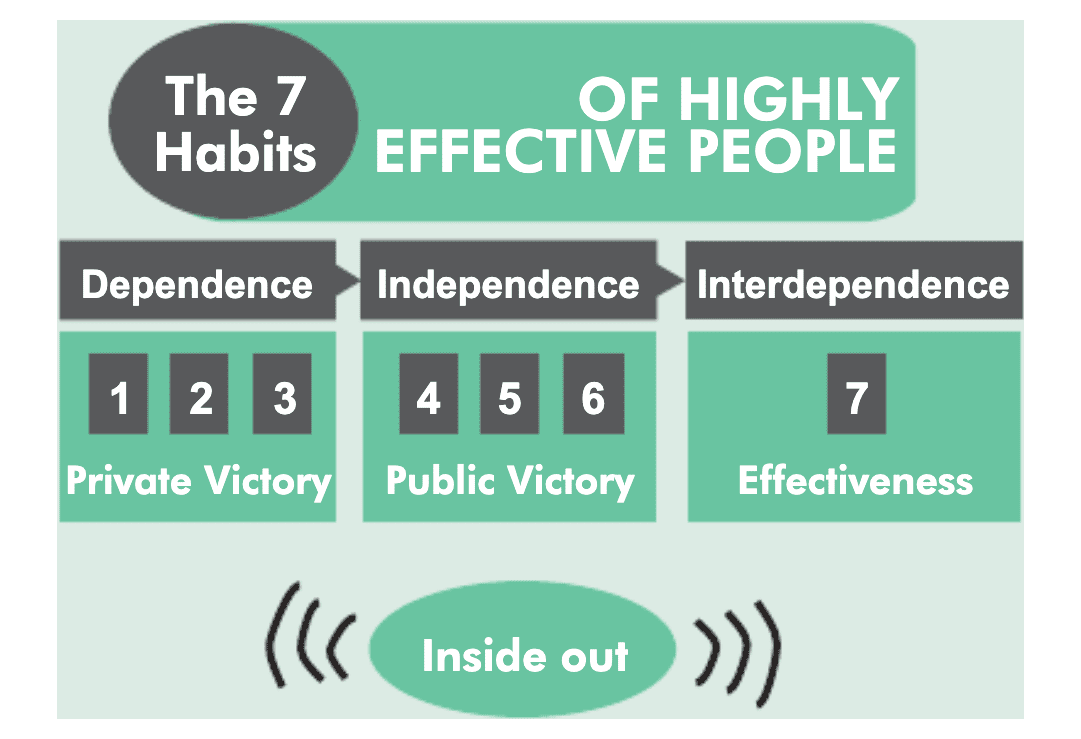 The essence of the 7 Habits is to enhance your personal effectiveness, you first need to master Habits 1–3 to achieve a private victory. Do this and you're at the stage of dependence, which has the paradigm : "You take care of me, and therefore I blame you for the results".
Master Habits 4–6 and you achieve a public victory. At that stage, independence becomes your prevailing paradigm: "I am self-reliant, and can choose and generate my own results".
True personal effectiveness, however, only becomes possible once you also master Habit 7. Then interdependence will be your paradigm: "We can collaborate, and combine our talents, to create something great together".
The 7 Habits show that true success always comes from the inside-out, and never from the outside-in. You need the character growth that moves you from dependence to independence before you can ever become interdependent. Private victories always precede public victories.
Powerful Lessons in Personal Change
---
1. An overview of the 7 Habits. The 7 Habits provides an integrated framework for becoming more effective, based on paradigms, principles and personal habits. Your character is a composite of your habits, and the 7 Habits approach is for you to move progressively from dependence to independence, and then ultimately to interdependence.
2. Private Victory — Habits #1 — 3. Habits 1, 2, and 3 deal with self-mastery. These are the private victories, which always must precede the public victories you hope to have in the future. Private victories are the essence of character growth. Achievements always come from the inside-out. If you're trying to generate success from the outside-in, that's like trying to harvest a crop before you plant it.
3. Public Victory — Habits #4 — 6. Habits 4,5, and 6 form the basis for true independence. These are the public victories of teamwork, cooperation, and communication. Interdependence can only be built on a foundation of true independence. You can't be successful working with other people if you haven't paid the price of success with yourself first. Interdependence is a choice only independent people can make.
4. Personal Effectiveness — Habit #7. Habit 7 is about collaboration. You take time on a regular basis to renew and refresh your personal stores of energy, and then look outwards for opportunities to collaborate and create with others. You work from the inside-out (character-driven) rather than the outside-in (circumstances-driven). By centering your life and career on correct principles rather than quick fixes, you become empowered to do more and be more.
Key Takeaways
---
"Most people do not listen with the intent to understand; they listen with the intent to reply." -— Stephen Covey
"Sow a thought, reap an action; sow an action, reap a habit; sow a habit, reap a character; sow a character, reap a destiny." —- Stephen Covey
Summaries.Com Editor's Comments
---
Well, this is a first. "The 7 Habits of Highly Effective People" was one of the first books we ever summarized when we launched Summaries.Com in 1998, and now we're summarizing the 30th Edition of the same book in 2020. Why? Pure and simple, this book is a phenomenon. Even thirty years after it was first published, it still makes crisp reading, and still features on all the bestseller lists. The book has inspired a generation of business leaders, and sparked several companies including FranklinCovey. We also liked the fact even though the author Stephen Covey has passed away, his son Sean Covey adds some great insights worth capturing.
Preparing an updated version of the summary has also generated a little bit of nostalgia for us at Summaries.Com. It highlights how our new release summaries have changed and evolved over the years as well. The 30th Edition version of this summary is certainly different from the initial edition we published in 1998. We hope you'll agree it shows we're getting a little bit better every year at extracting great ideas, and presenting them in concise summaries that cut out the fat and get right to the point. It's a weekly challenge we really enjoy, and hope this summary will add value to your life and career.
"The 7 Habits of Highly Effective People" has now sold 40 million copies. We look forward to its 50th Edition around 2050 when it has sold another 30 or 40 million copies. Maybe we'll summarize it again in 2050. By that stage, who knows what kind of technology will be used to deliver self-education resources for business. It should be interesting.