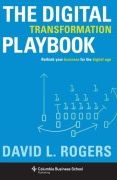 A 5 Minute Overview Of
The Digital Transformation Handbook
Rethink Your Business For the Digital Age
About the Author
---
David Rogers is a faculty member at Columbia Business School and a leader on digital business strategy. He serves as the faculty director of executive educational programs on digital marketing and digital business strategy. He is the author of four books including The Network Is Your Customer. He is also a keynote speaker and consults with global companies including Google, GE, Unilever, Toyota, VISA, SAP, IBM and MacMillan. David Rogers is also the founder and co-host of Columbia's BRITE conferences, a board member of the Marketing Hall of Fame and president of the NY American Marketing Association. He is a graduate of Columbia University and the University of Michigan.
The Main Idea
---
The challenge facing most established companies today is:

The knee-jerk answer most of the time has been: "Update your technology and hope for the best" but that's usually not enough. To genuinely get ahead in the digital era, it's more important to undergo a digital transformation. Upgrade your strategic thinking and reinvigorate your game plan so you can capture the best opportunities which lie ahead.
Specifically, digital transformation is more about changing your strategy and less about changing your technology. To capture the next stage of value creation and growth for your business and overcome your digital blindspots, you have to integrate into your strategy the ways digital forces are reshaping five key business domains:
Digital technologies are rewriting the rules of business in these five domains. To respond, you need an integrated effort to evolve and improve your business strategy. Every business can adapt and grow in the digital era.