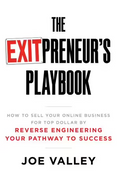 A 5 Minute Overview Of
The Exitpreneur's Playbook
How to Sell Your Online Business for Top Dollar by Reverse Engineering Your Pathway to Success
About the Author
---
Joe Valley is a serial entrepreneur and EXITpreneur. He has personally built, brought and sold half a dozen companies, and has mentored thousands of entrepreneurs through masterminds, podcasts, and at speaker events. He is an advisor and partner at Quiet Light Brokerage, a merger & acquisitions firm, which has closed more than $500 million in transactions involving exits from online businesses. Joe Valley is a graduate of Northeastern University, and is a Certified Merger and Acquisitions Professional.
The Main Idea
---
For most businesses, and especially online enterprises, fully 50 percent or more of all the money you'll ever make will come on the day you sell your business. With that in mind, you should become an EXITpreneur — someone who knows where the real payoff comes, and works to maximize that with a successful well-executed exit.
An EXITpreneur is an entrepreneur with knowledge and a plan to capture the financial worth of their labor in building a business. A good EXITpreneur understands no one really wants to own a business forever, and therefore proactively plans and works towards making a successful and profitable transition from one owner to the next.
The EXITpreneur understands wealth is realized when the business is sold, and they chart a clear and defined path to making that happen.
How to Sell Your Online Business for Top Dollar
---
1. The EXITpreneur's Game Plan. If you're building a business to sell it rather than to keep it long-term, you're going to run it differently. You have to keep your eyes on the end result all the time, and manage it so as to maximize value, not immediate cash flows. Keep your eyes on the prize.
2. The Valuation Scoreboard. How do you value a small business? The valuation of your business will always come down to four basic pillars and one basic equation: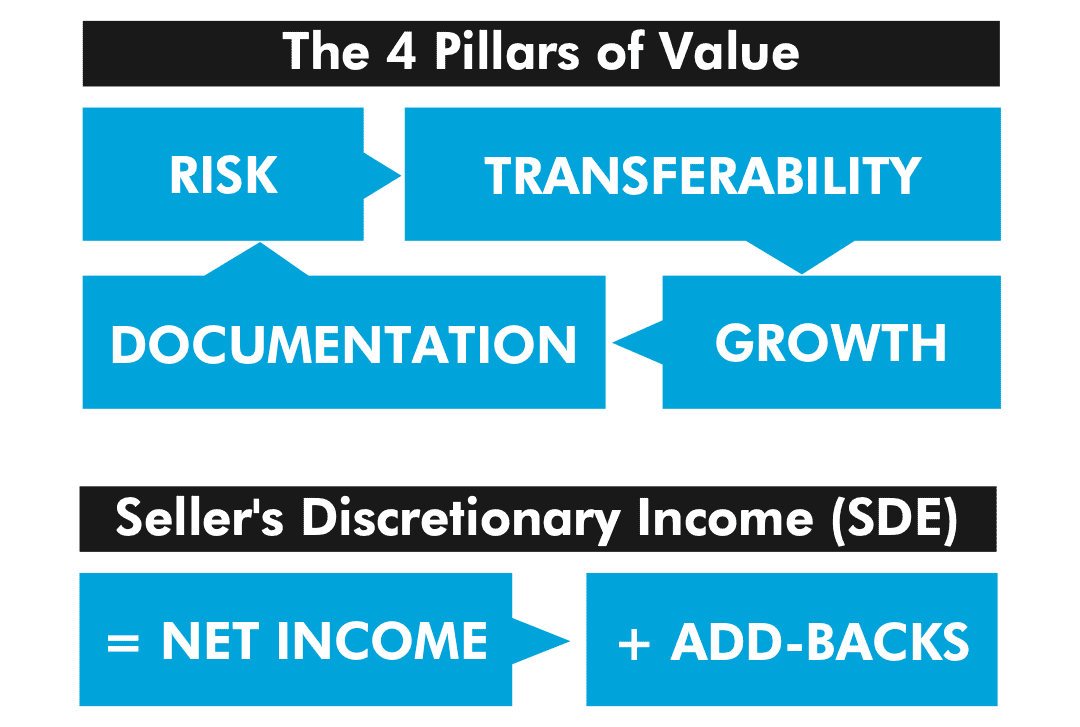 3. Preparing for a Successful Exit. Successful exits may look markedly different for different industries, but really they're not. The same three steps are always going to come up:

4. Achieving the Big Win. Valuing your business correctly is just the first step in succeeding as an EXITpreneur. You then have to team up with the right people to make the sale happen. Get a great advisor who will help you structure, negotiate, and close the best deal. Plan your sale process well and get into action so you can make an incredible exit.
Key Takeaways
---
50 percent or more of the money you will ever make from your business will come on the day you sell it. Keep your eyes on the prize.
Summaries.Com Editor's Comments
---
"From my own business startups, acquisitions, and exits to the hundreds that I've helped facilitate over the last nine years, one thing remains true: In most cases, more than 50 percent of all the money you'll ever make from your business comes on the day you sell it." That's quite an interesting quote made by merger and acquisitions guru Joe Valley. He should know. Not only has he sold six companies he personally started from scratch, his firm has acted as an advisor on more than $500 million in sales of online businesses.
With that in mind, Joe Valley suggests everyone should become "EXITpreneurs" — someone who has a plan to maximize the financial value of their business so they can sell at the right time. This is a very savvy idea, especially for entrepreneurs. If you're like me and you love the storming the beaches phase of starting something new, focusing on structuring things for a great exit is somewhat of a forgotten idea, but it makes good sense.
I really liked this book. It talks about a subject that is all too easy to gloss over and ignore. Focus on setting up your business for a great exit. Bootstrap, Grow, Sell and Repeat. Interesting idea.