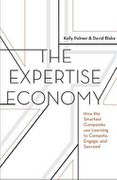 A 5 Minute Overview Of
The Expertise Economy
How the Smartest Companies Use Learning to Engage, Compete, and Succeed
About the Authors
---
Kelly Palmer is on the executive team of Degreed, an education technology company. She was formerly the chief learning officer of LinkedIn and vice president of learning at Yahoo! She also held numerous executive positions at Sun Microsystems. Her articles have featured in Forbes and Chief Learning Officer (CLO) magazine and she is a frequent keynote speaker on the topic. Kelly Palmer is a graduate of Stanford University, Boise State University and San Jose State University.
David Blake is founder and executive chairman of Degreed. He assisted in the launch of New Charter University and EdTech Entrepreneurs Lab. He was part of the founding team of Zinch which was acquired by Chegg in 2011. He also has experience as a management consultant and business advisor. He is a graduate of Brigham Young University.
The Main Idea
---
To excel today and in the future, you have to make sure your people's skills sync with what the markets value the most. You have to help your people keep transforming themselves into experts in new and emerging fields. Learning agility is now the biggest competitive advantage any company can have.

For all its obvious benefits, learning is always complicated and messy. It's not enough just to encourage your employees to keep learning and leave it at that. If you aspire to stay competitive and relevant in the future, then you need to be applying seven principles to boost your organization's learning agility: