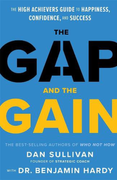 A 5 Minute Overview Of
The Gap and the Gain
The High Achievers' Guide to Happiness, Confidence, and Success
About the Authors
---
Dan Sullivan is a coach for entrepreneurs, keynote speaker, and strategic planner. His coaching firm, The Strategic Coach Inc., has provided training to more than 20,000 entrepreneurs worldwide. Dan Sullivan is the author more than 30 publications including The Great Crossover, Creative Destruction, and How the Best Get Better. Dan Sullivan is a graduate of St. John's College.
Dr. Benjamin Hardy is an organizational psychologist. His blogs published on Medium.com have been read by more than 100 million people, and he is regularly featured in the Harvard Business Review, New York Times, Forbes, and Fortune.Heis the author of Be Your Future Self Now, Who Not How, Willpower Doesn't Work, and other books. Dr. Hardy is a graduate of Clemson University and Brigham Young University.
The Main Idea
---
What's the best way to measure success?
You can either measure forward (obsess over the GAP to where you want to be) or measure backwards (look at all the GAINS you've achieved since starting). Overwhelmingly, research shows it's better to measure backwards. In other words, get out of the GAP, and into the GAIN.

When you measure your progress by your GAINS rather than by the GAPS that still remain, you liberate yourself from feelings of failure. Instead, you'll appreciate just how far you've come, and that positivity will itself fuel even more progress. It's a better way to live and work.
The more you measure your GAINS, the more positive energy you'll have, and the more GAINS you will get busy creating in the future. You will be freed from fears of constantly falling short, and that will drive you on a powerful upward spiral.
Guide to Happiness, Confidence and Success
---
1. Get out of the GAP. Most people aren't happy because they are focused on "life, liberty, and the pursuit of happiness" which is always just beyond their reach. They think "Once my business hits the five-million-dollar mark, I'll be happy" or "Once I own a Ferrari, I'll be happy". That's an unhelpful way to think, because it's a treadmill. You never arrive. It's time to escape the GAP by doing three things:

2. Get into the GAIN. A better and more productive way to operate is to note and be proud of the progress you've made thus far. It sounds counterintuitive but when you focus on what you have achieved, you actually become more likely to GAIN what you still lack. To get into the GAIN the three things you need to do are:

Key Takeaways
---
The more your measure your GAINS, the more GAINS you'll appreciate, and the more GAINS you will get busy creating in the future. Always think about your GAINS, not the GAP to where you want to be.
"Your future growth and progress are now based in your understanding about the difference between the two ways in which you can measure yourself: against an ideal, which puts you in what I call 'the GAP,' and against your starting point, which puts you in 'the GAIN,' appreciating all that you've accomplished."
-- Dan Sullivan
Within this one simple concept is a master class on positive psychology, healthy relationships, mental well-being, and high performance. Everything that psychologists know about how to create a high-functioning and successful person can be achieved using The GAP and The GAIN. When you focus on the GAIN, you and everyone around you are transformed." -- Dr. Benjamin Hardy
Summaries.Com Editor's Comments
---
What a great book. Strategic planning guru Dan Sullivan and organizational psychologist Benjamin Hardy team up to discuss a simple concept — to motivate someone, is it better to talk about what they still need to do (the GAP) or what they have already achieved since starting (the GAIN)? The authors show quite conclusively that measuring and celebrating your GAINS works far better.
There was a great story in that book about a businessman who decided he would be happy once he had $2 million in assets. Once he achieved that goal, he decided he really needed $5 million to feel good. On passing that impressive milestone, he had a rethink and decided that really he needed $10 million to feel successful. That's the problem with GAP-style thinking. It's a treadmill you can never get off, because there's always someone who has achieved more. It always feels like success is always just out of reach.
The moral? Think more about your GAINS. Celebrate what you've achieved in your life and career already. It's a much better way to live and move forward. Lots of other great ideas in this book about high performance and success. Well worth reading.