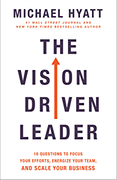 A 5 Minute Overview Of
The Vision-Driven Leader
10 Questions to Focus Your Efforts, Energize Your Team, and Scale Your Business
About the Author
---
Michael Hyatt is the founder and CEO of his own leadership consulting and executive coaching company, Michael Hyatt & Co. He is also a keynote speaker and podcaster. He was formerly chairman and CEO of Thomas Nelson Publishers, a Christian publishing company. He is also the creator of his own time management system, the Full Focus Planner, and the author of several New York Times bestsellers including Platform, Your Best Year Ever and Free to Focus. Michael Hyatt is a graduate of Baylor University and McLennan Community College.
The Main Idea
---
Vision is an essential ingredient for business leadership. Unless you as a leader have a clear and compelling picture of where you want to be five years from now, you have nothing with which you can inspire people to follow you.
So where do you start? There are 10 questions which form a proven vision-crafting system. Answer these questions honestly and you'll have a powerful vision you can deploy: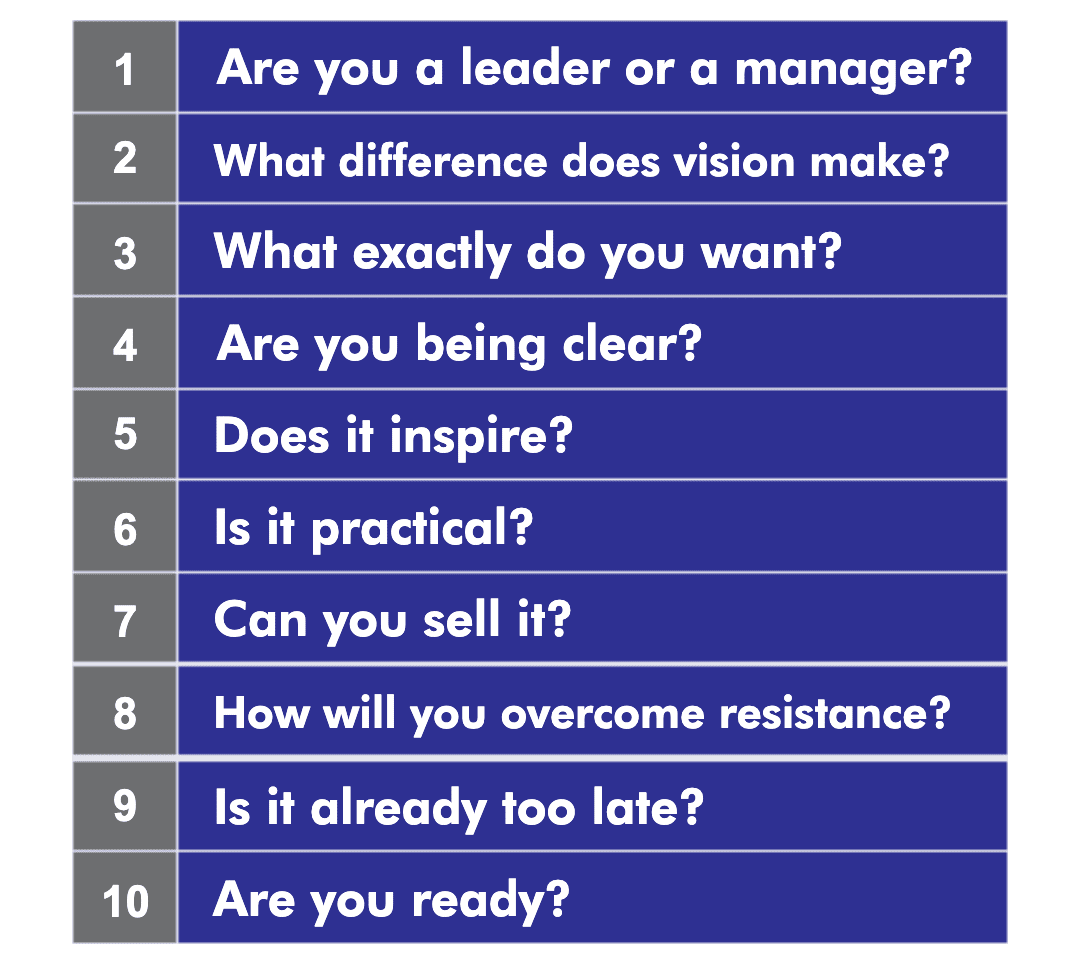 The 10 Key Questions
---
1. Are you a leader or a manager? Businesses need both leaders and managers to be successful, but leaders come first. Make sure you don't confuse the roles, and you have leaders that lead, not manage.
2. What difference does vision make? If leaders don't have a future focus, they will end up frustrating their teams and wasting resources. Be certain you don't hit the pitfalls of vision-deficient leaders.
3. What exactly do you want? Good leaders know the difference between mission and vision. Base your vision on the future of your team, your products, your sales and marketing efforts, and the impact you want to have in the world.
4. Are you being clear? Clarity comes when your vision is concrete rather than abstract, your communication is explicit rather than implicit, and what's in your head is clear so you can communicate it.
5. Does it inspire? Unless your vision fires the imagination of your people and makes them reach for the stars, it's not going to achieve much. Make sure you're aiming for something great.
6. Is it practical? A great vision has to guide your day-to-day actions. Make sure your vision includes a plan for who will do what, and how they will do it. You need to specify the focused effort needed.
7. Can you sell it? A compelling vision will generate buy-in from key stakeholders. Craft a vision you can sell up the chain, down the chain, and right across your organization. Buy-in is required.
8. How will you overcome resistance? Every vision faces resistance. It's just part of the territory. Make sure you can keep pushing your vision with the tenacity, the integrity, and the courage which will be required.
9. Is it already too late? It's not too late to become a vision-driven leader, even if your organization has never before had one. Push ahead with your new and compelling vision and succeed.
10. Are you ready? There are opportunities in abundance to excel at the present time by being vision-driven and leading out. Ignite your inner JFK and get into action. You can do it, starting now.
Summaries.Com Editor's Comments
---
As I was reading Michael Hyatt's latest book this week, I was reminded of the classic statement by Aimee Lehto who said: "Impossible is just a big word thrown around by small men who find it easier to live in the world they've been given than to explore the power they have to change it." This book talks a lot about the importance of leaders having a vision, and the difference it makes.
I particularly liked all the stories in the book about organizations that beat the odds because they had leaders with vision and tenacity. It was quite inspiring to also read all the quotes from other thought leaders along the same lines. Vision sometimes gets a bad reputation because execution counts for so much, but seeing where you need to head first is vital. Otherwise, as Stephen Covey put it, you spend all your time climbing up the ladder only to find it was leaning against the wrong wall all along.
Overall, a good read, especially for leaders present and future. As Jack Welch put it: "Good business leaders create a vision, articulate the vision, passionately own the vision, and relentlessly drive it to completion". Sounds good. I'm in.