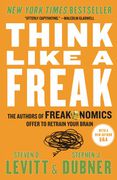 A 5 Minute Overview Of
Think Like a Freak
The Authors of Freakanomics Offer to Retrain Your Brain
About the Authors
---
Steven Levitt is professor of economics at the University of Chicago and a founding partner in The Greater Good, a consulting firm. He has won numerous awards as a teacher including the John Bates Medal for the most outstanding economist in America under the age of 40. In 2006, Time magazine named Dr. Levitt as one of the 100 People Who Shape Our World.Heis a graduate of Harvard University and M.I.T. Dr. Levitt and Stephen Dubner are the co-authors of three books including Freakanomics and SuperFreakanomics.
Stephen Dubner is a journalist and TV and radio personality. He is author of several books including Turbulent Souls and Confessions of a Hero-Worshiper. His journalistic works have been published in the New York Times, The New Yorker and Time magazine. He is a graduate of Columbia University where he also taught English.
The Main Idea
---
"Freakanomics" is both a well-known expression and an ideology which was introduced to the world in two bestsellers titled Freakanomics (2005) and SuperFreakanomics (2009). These two books have now sold more than 7 million copies worldwide in 35 languages.
The essence of Freakanomics is that the theories economists develop and use can be applied to problems in society at large with equal relevance and effectiveness. Economists insist on letting the data speak for itself rather than applying their own hunches, preferences or ideologies.

Put another way, Freakanomics is the art and science of thinking for yourself and letting the facts speak for themselves. If you can apply Freakanomics consistently well — or in other words if you can learn to "Think Like a Freak" — you stand a better chance of solving the really difficult problems other people generally ignore and hope they will go away.
How to Think Like a Freak and Solve Hard Problems
---
0. A primer in Freakanomics. Freakanomics as a philosophy is based on four reasonably simple ideas:…
1. Start by putting away your moral compass. It's hard to solve problems if you approach them with your mind already made up. Insist on letting the facts speak for themselves and always test your assumptions.
2. Be quick to admit and to say: "I don't know.". To get good answers, you usually have to redefine the question or questions you ask. Often, the first step to discovering something interesting is to admit you don't know.
3. Attack the root causes of problems, not the symptoms. It's easy to get sidetracked into treating the symptoms of a problem rather than its root cause. If you do that, all you end up with is a band aid. Always go for the roots.
4. Think like a child. When it comes to generating fresh ideas and asking questions that make you think, it can be helpful to have the mentality of an eight-year-old. Question everything.
5. Incentives work. People respond to incentives. They always have and they always will. Yet it's amazing how quickly people forget this. Get the incentives right and you can get just about anyone to do just about anything.
6. Make your garden weed itself. People with different motives respond to the same incentive in different ways. If you're smart, you will use this to your own advantage by getting people to reveal their intentions.
7. Tell more stories. When you think like a freak, people will get upset. Don't waste your time trying to persuade people who don't want to be persuaded. Instead, tell them stories.
8. Quit sooner rather than later — as soon as the results are in. The sooner you abandon what doesn't work, the more resources you will have left to try something new. Be quick to run experiments and even quicker to quit what doesn't work.