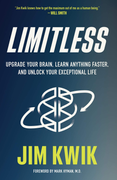 A 5 Minute Overview Of
Limitless
Upgrade Your Brain, Learn Anything Faster, and Unlock Your Exceptional Life
About the Author
---
Jim Kwik is an expert in memory improvement, brain optimization, and accelerated learning. He is the CEO and founder of Kwik Learning which coaches students, seniors, entrepreneurs, and educators. His corporate clients include Google, Virgin, Nike, Zappos, Fox Studios, the United Nations, Caltech, Harvard University, and Singularity University. Every year, his keynote speeches reach more than 200,000 people in person and attract hundreds of million views online. His "Kwik Brain" podcast rates as one of the top educational training shows on iTunes.
The Main Idea
---
Human potential is one of the only truly infinite resources which exists in the world. There are literally no limits on your creativity, imagination, and ability to think except those which are self-imposed. If you're not currently functioning at your full potential, there are limits in place which must be released. These limits tend to be in three areas:

A limit in your mindset (the WHAT) — you have incorrect beliefs, attitudes or assumptions.
A limit in your motivation (the WHY) — you lack the drive, purpose, or energy to behave in a more limitless manner.
A limit in your methods (the HOW) — you were taught incorrect processes which will not generate the results you want.
Identify what has been holding you back until now and you have the ability to become limitless in every area that's important to you — academic, health, career, relationships, or personal growth. Free your mind and change your life's trajectory. It can be done.
The Three Self-Imposed Limits
---
1. Element #1 — Mindset (the WHAT). Your mindset — your beliefs, assumptions, and attitudes — are never pre-installed at birth. You've picked them up as you've gone along, and more than likely they are a LIE (Limited Idea Entertained). It's possible to learn how to have a limitless mindset. When you do that, you'll find most if not all of your present constraints are self-imposed. You have to accept that you have the power to assume a limitless mindset. Your true potential is within your control, and once you understand that, the power of that potential grows dramatically.
2. Element #2 — Motivation (the WHY). Contrary to popular belief, your personal motivation is not fixed. It's not something you either wake up with or you don't. Instead, motivation can be generated every day. It's the result of a repeatable process you can control. You can create personal motivation every day by following the recipe: MOTIVATION = PURPOSE x ENERGY x S3. When you combine purpose and energy with small simple steps (S3) in the right direction, you'll be motivated. Do that every day and you'll stay in the state of flow, the ultimate form of productivity.
3. Element #3 — Methods (the HOW). Approaching every day with a productive mindset and the optimum level of motivation is great, but you also need to learn how to learn. You need methods — procedures and processes — which will help your brain excel. Learn savvy methods for how to focus, study a topic, memorize key facts, undertake speed reading, and think clearly. Get good in all these five areas and you will genuinely become limitless.
Summaries.Com Editor's Comments
---
I hadn't heard much about Jim Kwik before reading his book, but I came away from the experience with respect for the journey he's been on. He has come back from some serious injuries and setbacks as a young person, and has built a solid 20-year career teaching people how to achieve more and do more. Full kudos to Jim Kwik. I really like his motto that learning how to learn is the key to unlocking your innate superpowers, and our capacity to learn as humans is limitless. That's something we believe and live by at Summaries.Com.
The underlying concept of Limitless is that human potential is the only truly infinite resource in the world, and any limits we have are self-imposed. To achieve more, remove the limits in your mindset, your motivation, and the methods you use. Remove those limits, or install expanded and better systems or operating software, and you can tap into the superpowers that you already have. Very motivational and empowering.
This book really makes you think about what you're capable of achieving. It challenges you to reach for the stars, and to become limitless as the title suggests. I think that's a great message to get in the current era when a virus 1,000-times smaller than a grain of sand has bought entire populations and global economies to a grinding and jarring halt. If ever there was a time to expand our thinking and become limitless, this is it.
Great book. Well worth reading and applying.