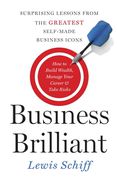 A 5 Minute Overview Of
Business Brilliant
Surprising Lessons from the Greatest Self-Made Icons
About the Author
---
Lewis Schiff is executive director of Inc. magazine's Business Owners Council — a membership organization for entrepreneurs and business owners. In addition to to maintaining a blog which is published on the Inc.com Web site, Mr. Schiff is also the author of three books including The Influence of Affluence and The Armchair Millionaire. He previously worked as a consultant to TheStreet.com, as senior managing principal for CEG Worldwide and as CEO of Investorama.
The Main Idea
---
Most middle-class people believe the keys to financial success are:
Do what you love and the money will follow
Put your capital at risk to get ahead
Diversify the ways you make money
Have a success attitude
Think like a millionaire
Yet when a 6-year long study was carried out of self-made millionaires who came from middle-class families, it was found none of them had followed that conventional wisdom. Instead, they subscribed to a completely different set of guidelines and thereby had become "business brilliant" rather than settling for merely being highly educated or well qualified professionally.
If you want to change your own personal financial destiny for the better, aspire to become business brilliant. First change the way you think and then change the way you act day-by-day. You do this by adopting the seven mental habits of the wealthy and then using the LEAP methodology:
Sections in this Books
---
1. The seven mental habits of the ultra wealthy.

2. The LEAP methodology for becoming wealthy.