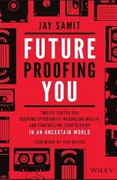 A 5 Minute Overview Of
Future Proofing You
Twelve Truths for Creating Opportunity, Maximizing Wealth, and Controlling Your Destiny in an Uncertain World
About the Author
---
Jay Samit is an entrepreneur, a serial disruptor, and a keynote speaker. He is recognized as one of the world's leading experts on disruption and innovation, and has raised hundreds of millions of dollars for startups and new ventures. Jay Samit's first book, Disrupt You, was a bestseller. He is a proven deal maker, having created enduring strategic partnerships with McDonalds, Coca Cola, United Airlines, Microsoft, Ford, GM, and Best Buy. He formerly served as an independent vice chairman of Deloitte Consulting, where he helped grow pre-IPO companies like LinkedIn. He also served as CEO of a public company and held senior management roles at EMI, Sony, and Universal Studios. He is a graduate of UCLA, and is adjunct professor at the University of Southern California.
The Main Idea
---
How can you future proof your life and your career — so you come out on top no matter what happens in the world and the economy?
To achieve lasting success, you don't need money or connections. To become and stay future proof, you really only need:
Insight — the ability to find opportunities, and then to learn how to create and capture value.
Perseverance — the capacity to keep going until you figure out your business model, and get it right.
The great thing is in today's world, opportunities for success are everywhere. They can be sparked by something you're looking for personally, which is not yet available in the marketplace. They can be generated by new technologies you can leverage.
12 Truths of Future Proofing
---
Truth #1 — You must have a growth mindset. Find ways for everyone to win, and for you to learn and grow to succeed.
Truth #2 — Obstacles are opportunities in disguise. The best way to get ahead is to learn from your mistakes.
Truth #3 — Fear is good — use it to drive you forward. Openly acknowledge your fears, and then use them for motivation to excel.
Truth #4 — Failure is great — it's part of the journey. You learn more from your failures than you ever do from success. Start learning.
Truth #5 — Your superpower makes you successful. Ignite your superpower by applying what makes you unique. Master your power.
Truth #6 — Passion will make you unstoppable. Perfect the learned skill of persistence to turn your passions into success.
Truth #7 — You can't go it alone — find good mentors. Link up with people who have the experience you need to get ahead. Get help.
Truth #8 — Every business today is a tech startup. Make sure you are harnessing the digital technologies which will help you scale.
Truth #9 — You must fill a unique void to succeed. Be certain you're filling a void that really exists, not starting an entirely new industry.
Truth #10 — Spatial reality is a trillion-dollar opening. Find ways to take your business mobile and interconnected. This is big.
Truth #11 Working hard won't make you rich, but working smart definitely will. Master the creative ways to structure capital transactions so you catapult ahead.
Truth #12 — Remote workers have become your new competitive advantage. Make sure you learn how to manage a remote workforce effectively.
Key Takeaways
---
If you have insight and perseverance, you can future proof your life and flourish, come what may.
Summaries.Com Editor's Comments
---
What a great book. Serial entrepreneur Jay Samit has gathered together a collection of very impressive stories he uses to teach his 12 principles for becoming "future proof", both professionally and personally. He mentions some real-world examples I was not familiar with. My personal favorite was the story of George Lucas, aged 27 years. When he wanted to make Star Wars, all of the studios turned him down.
Eventually, 20th Century Fox agreed to back him, if Lucas would agree to direct the movie for just $50,000. (He also got $50,000 for writing the movie, and $50,000 for producing it). Lucas agreed to the deal, as long as he could retain the rights for a sequel or sequels.
Fox probably thought they had the deal of the century when Star Wars became the highest grossing film of all time on its release in 1977. The studio was desperate to get those sequel rights back, and Lucas agreed to give Fox those sequels if he could have the merchandising rights for all the Star Wars movies royalty-free. Fox agreed, since up until that time the merchandising rights for movies were just peanuts compared to box office takings. George Lucas, however, was playing the long game, and would go on to generate more than $32 billion in Star Wars merchandising sales, making himself a billionaire in the process.
That's just one example of how to future proof yourself with smart thinking. This book has plenty more. He also talks about current trillion-dollar opportunities, which are poised to be the greatest transfer of wealth in history, and how to get involved. Highly recommended.