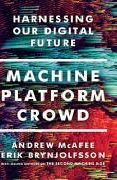 A 5 Minute Overview Of
Machine, Platform, Crowd
Harnessing Our Digital Future
About the Authors
---
Andrew McAfee is principal research scientist at MIT where he studies how digital technologies are changing businesses, economies and societies. He was previously an associate professor at Harvard Business School. He is a graduate of Harvard Business School and MIT. He and Erik Brynjolfsson are the coauthors of the New York Times bestseller The Second Machine Age and Race Against the Machine. He is also the author of Enterprise 2.0.
Erik Brynjolfsson is a professor at MIT. He is also a keynote speaker at conferences and events including TED2013, World Economic Forum, BusinessWeek CEO Summit and elsewhere. He is a graduate of Harvard University and MIT. In addition to the books he has coauthored with Andrew McAfee, Erik Brynjolfsson has also written and published Wired for Innovation. Both coauthors have been named to the Thinkers 50 list of the world's top management thinkers and the Politico 50 group of people transforming American politics.
The Main Idea
---
The traditional approach to creating value has always been people think up or invent a better way of doing something (Minds), monetize the idea (Products) and then build a company around making that product or service (Core). That basic Minds | Products | Core dynamic is at the heart of the modern economy.
However, three trends have now arisen:
Machines are getting smarter and when supplied with big data can learn by identifying patterns and finding smarter ways to do things.
Platforms have come along run by companies which don't make or own anything but just facilitate transactions and resource sharing.
The Internet makes it feasible for crowds working together to come up with better ideas than experts.

The combined result of those three trends is the Minds | Products | Core dynamic is rapidly being superseded by Machines | Platforms | Crowd. The good thing is with change comes opportunity. The key to excelling in the years ahead will be to take advantage of Machines | Platforms | Crowd.