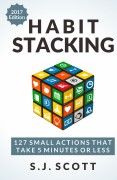 A 5 Minute Overview Of
Habit Stacking
127 Small Changes to Improve Your Health, Wealth, and Happiness
About the Author
---
Steve "SJ" Scott is a writer, blogger and podcaster. He is the author or co-author of more than 30 books including Declutter Your Mind, Wake Up Successful, S.M.A.R.T. Goals Made Simple and 23 Anti-Procrastination Habits. Steve Scott is also the co-author of The Miracle Morning series of books written with Hal Elrod. His self-improvement books have been published in 12 different languages and several have become Wall Street Journal bestsellers.
The Main Idea
---
Habit stacking is a personal productivity strategy where you group together a series of small actions or habits (which take 5 minutes or less to complete) into a regular routine that you follow daily. You then select a trigger which will remind you to work through your habit stack at the right time.

The whole aim of habit stacking is to combine small actions which will generate a chain reaction of positive benefits. Most people tend to view success as an event but the reality is success is always a process. If you can get into the habit of making a small amount of progress towards your most important goals every day, the compound effect can be significant and far reaching.
Integrate small habit stacks into your daily routine and you'll be amazed at how much you can and will accomplish over time.