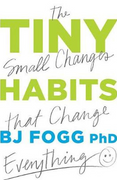 A 5 Minute Overview Of
Tiny Habits
The Small Changes That Change Everything
About the Author
---
BJ Fogg is a behavior scientist, with more than 20 years experience in studying human behavior. He runs a research lab and lectures at Stanford University, and does extensive consulting with industry on "Behavior design" — understanding human behavior so companies can create effective solutions. He is the author of Persuasive Technology, and a popular keynote speaker at conferences and events. He previously served as director of research and innovation at Casio, and as founder and chairman of VentureNova, LLC. Dr. Fogg is a graduate of Stanford University.
The Main Idea
---
Pretty much everyone on the planet wants to build better habits — both personal and professional. However, change is hard. There's a painful gap between expectations and reality most of the time. That's where Tiny Habits comes in.
"Tiny Habits" is a habit formation methodology which aligns with how human psychology actually works. The essence of the Tiny Habits approach to behavior design is:

Specify a behavior you want, and figure out what a tiny step in the right direction would be. You then identify where an anchor occurs naturally in your life, and cement it in place by celebrating when you do it. If you want to create permanent long-term change, start small and build from there.
Tiny Habits is the quickest, easiest vehicle for personal growth and transformation. It grew out of designing business solutions which underpin successful products that millions of people now use daily. Tiny Habits is fast, safe, and can be started immediately — regardless of how much willpower you can bring to bear. It works.
How to Make Small Changes that Change Everything
---
1. The Behavior Model. Everyone knows you can change your life by changing your behaviors, but what is less well-known is there are really only three variables that drive all behaviors — motivation, ability, and prompts. Once you understand the Behavior Model, you can analyze why a behavior happened and what needs to change in the future. The model is a map to growing better habits.

2. Behavior Design. The best way to modify your future behavior is always to start small — to take baby steps in the new direction — and then to use momentum to increase your motivation to continue that behavior in the future. If you start small and take advantage of the prompts which are already there, you can design new habits which help you achieve your goals, personal and professional.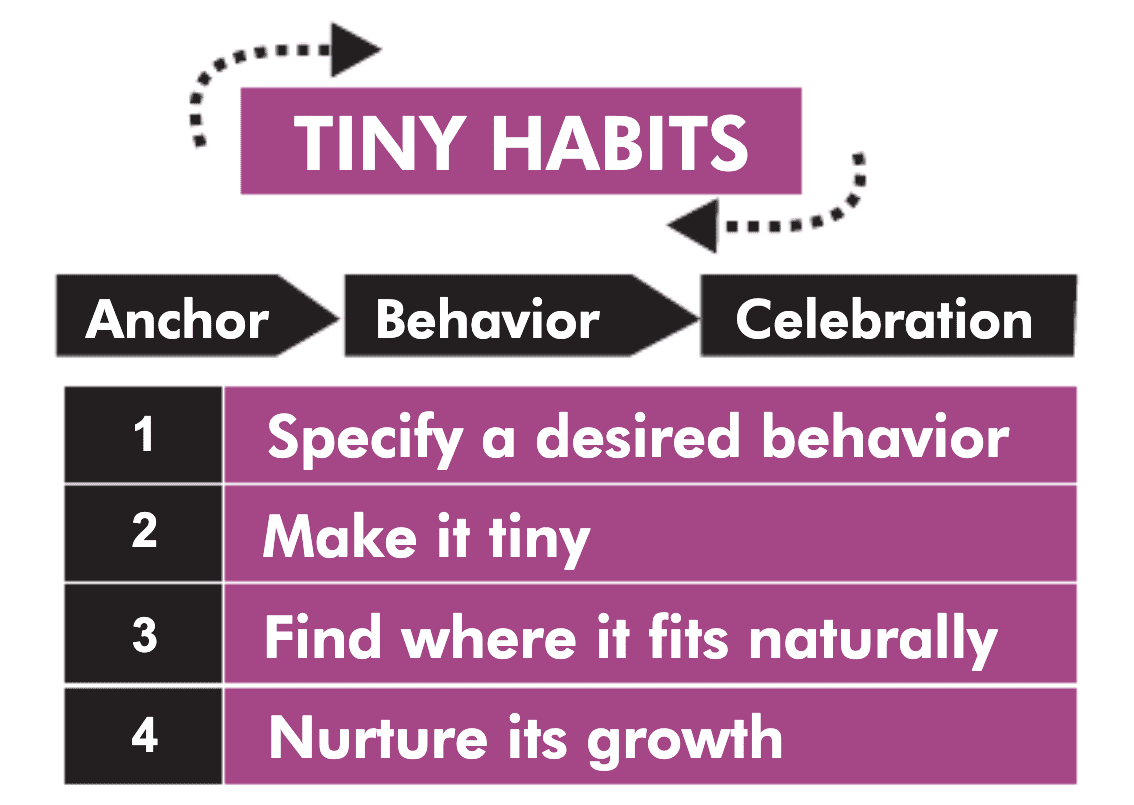 Summaries.Com Editor's Comments
---
At first glance, Tiny Habits seemed a bit too simplistic to be true. Stanford University's acclaimed behavioral scientist BJ Fogg states the key to forming new habits — whether personal or professional — is to take tiny steps in the right direction and then celebrate whenever you do that. That "start small and build momentum" model is not new, but the level of proof he supplies that it works is pretty impressive. He famously taught his Tiny Habits methodology to a Stanford class in 2007 when Facebook was just launching its app-hosting platform and within six months his students had engaged more than 24 million people using his behavior design methodology. That certainly does validate he knows what he's talking about.
The secret sauce of Tiny Habits is linking your new habit to a prompt that already arises naturally in your daily routine. That's smart. It means you no longer have to rely on your personal motivation level (which varies), external prompts like Stick-It notes, or anything else. You just go about your day and as you encounter your prompts, you get reminded to take a small step in a new direction. It makes a lot of sense.
I can see now why the Tiny Habits book is generating so much buzz. It's very smart, and a good read. Highly recommended. I plan on using behavior design myself to upgrade my personal and professional habits. This could be something you will want to use as well.