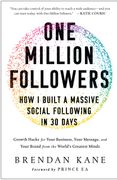 A 5 Minute Overview Of
One Million Followers
How I Built a Massive Social Following in 30 Days
About the Author
---
Brendan Kane is a business and digital growth strategist. He works with Fortune 500 companies, brands and celebrities to help them systematically find and engage new audiences. Brendan Kane has worked with MTV, Skechers, Vice, IKEA and other corporations to advise them on how to grow their digital audiences. He previously managed Lakeshore Entertainment's interactive media strategy where he worked on 16 films, which ultimately generated $685 million at the box office. Brendan Kane has also built platforms for celebrities like Taylor Swift, Rihana, Charles Barkley, Adriana Lim and others. He also served as vice president of digital for Paramount Pictures. Brendan Kane is a graduate of Columbia College Chicago and Augustana College.
The Main Idea
---
Each and every day, more than 60 billion messages are sent out on digital platforms. It is now feasible for anybody (not just celebrities) to build an authentic following of one million people or more on digital platforms like Facebook, Instagram, YouTube, Snapchat and LinkedIn.
So how do you build a successful multi-media brand? The key to scaling a massive audience in the shortest time possible is to produce digital content and then test and measure how people are responding to your content in real time. Specifically, your mantra should be:

Hypothesize — what kind of story, format or theme will engage your target audience.
Test — quickly produce a low-cost version of your concept or message and learn everything you can about what does and does not work.
Pivot — invest in it further if your hypothesis turns out to be correct. If it's disproved instead, quickly pivot to a new format, a new story, or a new theme, and repeat the process.
The great point is you don't have to reinvent the wheel when it comes to social media. Look around and borrow ideas from what has worked for other people. Test and learn.
How to Gain One Million Followers
---
1. Hypothesize - Build Experiments. Develop a format, story, or theme which you think will engage your target audience around a specific message. Do this quickly and then start testing how you can catch & hold people's attention.
2. Test - Validate and Learn. Produce a low-cost version of your concept or message, which can be tested and validated. Learn everything you can about what does and does not work from the tests you run.
3. Pivot - Invest More or Pivot. If your hypothesis is shown to be correct, invest in it further and build more content. If it's disproved, repeat the process all over again with a new format, a new story or a different theme.
Summaries.Com Editor's Comments
---
I must admit, the back story for this book was alluring.
Brendan Kane decided to put his digital marketing expertise to the test by trying to amass one million followers for a no-name with no established following. He realized that he was the ideal candidate for this experiment because he wasn't famous and had never been on TV or done anything society considered especially cool. So he applied his business experience, and lo and behold he generated a million followers in less than a month!
He doesn't spell out how much he spent to achieve that goal, but it's obvious that Facebook advertising was a big chunk of his strategy. Brendan also focused on generating shareable content and getting others to tell their friends — which always has been, after all, the secret sauce of social media marketing.
I was impressed by his suggestion to use Facebook to generate real-time data about how people are responding and then to make changes on the fly. It's almost like building an engine for your jet while you're in the middle of a flight.
Overall, I think this book is worth reading to help you develop the mindset it takes to excel in business today. It's hands-on and specific about the best ways to take advantage of each social media platform.
As Brendan Kane points out: "If I can do it, you can do it". Now that would be the most interesting experiment of all.