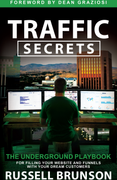 A 5 Minute Overview Of
Traffic Secrets
The Underground Playbook for Filling Your Websites and Funnels with Your Dream Customers
About the Author
---
Russell Brunson is a serial online entrepreneur. He started his first online company as a student at Boise State University, and within a year of graduating had sold more than a million dollars worth of products and services. He is a co-founder of ClickFunnels, one of the fastest-growing software companies for digital marketers in the world. ClickFunnels is not backed by venture capital but was bootstrapped by Russell Brunson and his partners using the ideas in his books. He is the author of several business bestsellers including Dotcom Secrets and Expert Secrets.
The Main Idea
---
The big secret about traffic on the Internet is you don't really have to create it. Your dream customers are already congregating online. The challenge is to figure out where they are, use a funnel to get them onto your mailing list, and then keep providing lots of value so you grow that list. Do that well and when you release your next product, you already have a pool of customers who know you and are predisposed to buy whatever you sell. Dig your well before you need it.
The sequence for doing that is simple and logical: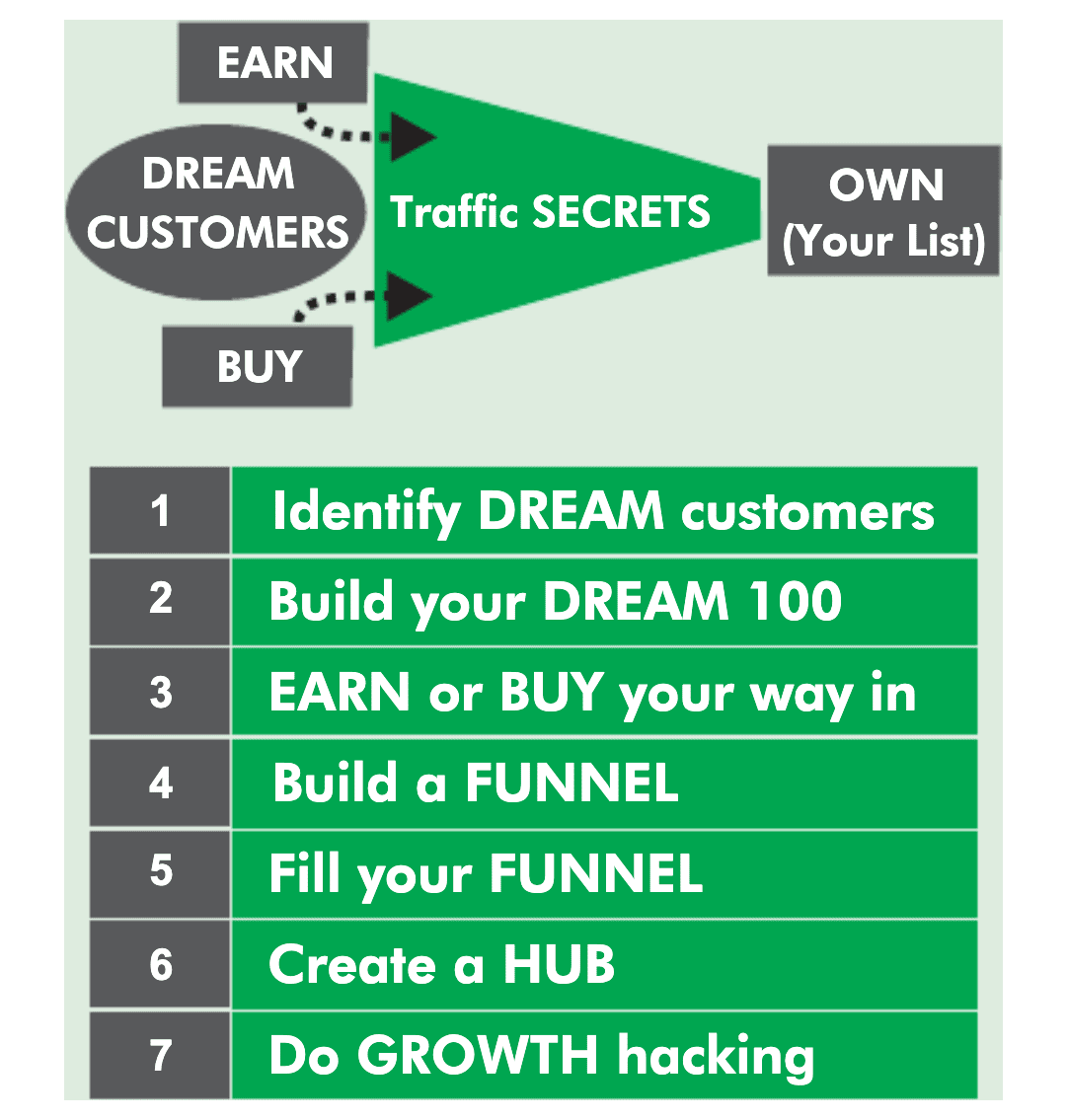 How to Attract Your Dream Customers
---
1. Your dream customer. Job #1 in generating traffic to your website or your funnel is to identify exactly who your dream customer is. Develop an avatar for that customer, and enter into the conversation that's already going on in their mind. Once you clarify who your dream customer is, only then can you find where they hide, figure out what it will take to stop them in their tracks, and use messages they will relate to so you can get them into your funnel and ultimately onto your contact list. The key here is to access traffic you earn and traffic you buy via your "Dream 100" who already interact with your dream customers.
2. Fill your funnels. Once you clarify where your customers are, you can then lead them into your funnel — like a modern version of the Pied Piper. You can leverage whatever platforms are in play at the moment to achieve that. For all of your efforts, focus on the key elements of Hook > Story > Offer. The principles are the same no matter what platforms you use. At the present time, the big platforms worth learning are Instagram, Facebook, Google, and YouTube, but there will be others that rise in the future. Create your own powerful version of the "Tonight Show" and use that to fuel all your traffic generation assets every week.
3. Do some growth hacking. Create a "hub" — a home website for all your best stuff — which is so good others want to push traffic to it. If you can do that, you'll be able to tap into other influencer's distribution channels and grow your list exponentially fast. Create a bigger audience stream by using affiliates who will spend their own money promoting what you have to offer. Model what the most successful players are doing and you can scale your company forever. Be discoverable and worth following in the future and traffic won't be an issue, or even something you have to pay for.
Summaries.Com Editor's Comments
---
Russell Brunson is a legend in the digital marketing field. His company ClickFunnels is a fast growing phenomena in the software-as-a-service industry, and he has a highly engaged group of 100,000+ users, affiliates, and influencers. TRAFFIC SECRETS is the last book in a trilogy published by Russell Brunson. His first book, DOTCOM SECRETS, helps marketers build their sales funnels online. The second book, EXPERT SECRETS, explains how marketers can master the art of converting leads into dream customers. TRAFFIC SECRETS explains how to fill those funnels with leads.
I personally like all three of the books, but TRAFFIC SECRETS is probably the best laid out and well written. Russell makes the point that you don't have to create traffic. It's already there. Your dream customers are already hanging out online. All you have to do is figure out where they are currently congregating, and get in front of them. I like his approach that you achieve that by understanding your dream customers in detail and by reaching them through the influencers they already follow and trust. The distinction he points out, that you can earn your way in or buy your way in with those influencers, is one of those ideas that is obvious once it has been pointed out, but you never really thought of it that way before.
TRAFFIC SECRETS makes some very bold statements. For example: "If you publish daily for a year, you'll never need to worry about money again". He also says in this book: "If you were sitting right in front of me right now, I'd have you pick one platform, build your show on it, get to work on your Dream 100, and then only focus on that for at least the next 12 months of your life." Is he right? Well, remind me to let you know in a year's time. I'm up for giving it a go. In fact, I plan on documenting my journey. Come along for the ride.
If you like this summary, you'll love the full book. Get your FREE copy NOW!